Sunset Cliffs Natural Park-Hillside Improvements Project Phase 2
Project Overview
This project includes the revegetation of the Sunset Cliffs Natural Park – Hillside section.
This revegetation effort will include:
Removal of non-native, invasive plant species and the replanting of disturbed areas with native plants including 51 Torrey Pines;
Improvement of the existing trails, adapting one existing trail to make it ADA compliant and the closure of tertiary, or "spider", trails;
Installation of overlooks, benches, interpretive signs and a pedestrian bridge to cross Cretaceous Canyon;
Biological monitoring of construction activities to ensure native plants and wildlife are protected;
Monitoring conducted by a Native American expert, a paleontologist and an archeologist;
and regrading of the old ball field.
This project is in line with the

Sunset Cliffs Natural Park Master Plan, the Master Environmental Impact Report and the site and Coastal Development Permits. This project went through all applicable City and community reviews and is currently being monitored to ensure compliance with environmental permits.
This park improvement, including the installation of over 20,000 native plants (around 35 acres) and the closure of tertiary trails is intended to provide the following:
Safe pedestrian access

Improved access to the park for emergency vehicles

Decreased erosion

Improved access for persons with disabilities

Restoration of native habitat

Protection for native species and the ocean

Interpretive signage and seating

Implementation of the SCNP Master Plan

Inclusion in the California Coastal Conservancy "California Coast Trail"
Schedule
Construction began on Jan. 25, 2018. Major work is anticipated to be completed by the summer of 2018, followed by a 120-day plant establishment period. A 5 year maintenance phase will follow afterwards to ensure the success of the plants.
Project Map
This map was used during the planning phase to illustrate the goals and outline for the project. When completed, the trail system and features may not exactly mirror what is depicted in the map.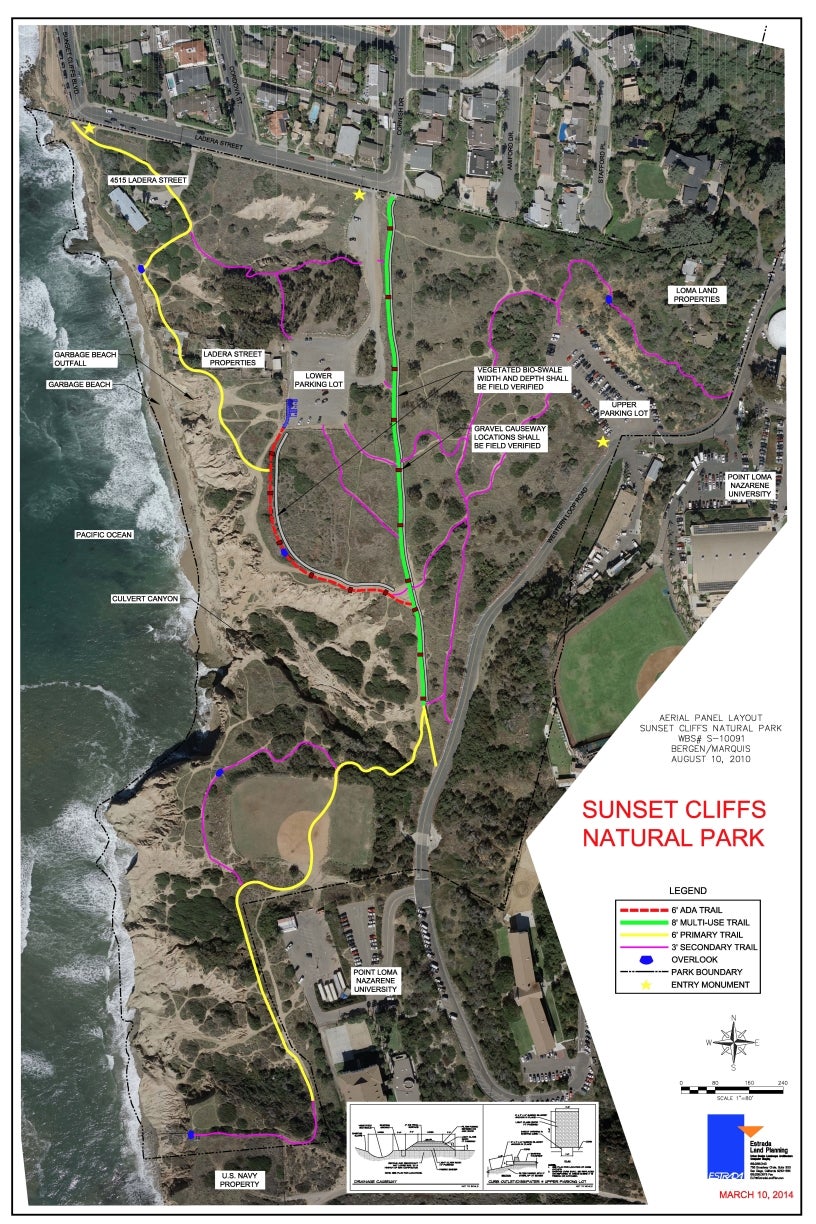 Working Days and Hours
For the month of March                               April through summer 2018
Monday through Friday                                   Monday through Friday
7 a.m. to 5:30 p.m.                                                7 a.m. to 3:30 p.m.
Project Budget
The total project budget for phases 1 and 2 is $4.2 million.
Contact Us
For questions or concerns about the project, please call the Public Works Department construction project information line at 619-533-4207, email [email protected], or submit your inquiry online. Please reference "Sunset Cliffs Natural Park-Hillside Improvements Phase 2" in your inquiry.