Mike Gotch Memorial Bridge Ribbon Cutting Ceremony
April 20, 2012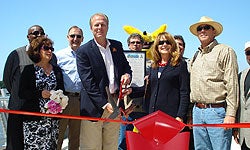 The 260-foot Mike Gotch Memorial Bridge was dedicated on April 20, 2012, honoring the late San Diego City Councilmember and California State Assemblymember, who passed away from cancer in 2008.
The bridge connects the Pacific Beach Drive to Mission Bay Drive bicycle network over Rose Creek, which flows out to Fiesta Bay. "It provides a safe and convenient route for bicyclists -- a cause that Mike Gotch consistently championed," said San Diego City Council President Pro Tem Kevin Faulconer.
A whopping crowd of more than 200 bicyclists, park users, and other guests were in attendance to hear Councilmember Faulconer, former Mission Bay Park Committee Chair Steve Alexander, Campland on the Bay President Michael Gelfand, and City of San Diego Public Works Department Director Tony Heinrichs.
The speakers shared fond memories of Gotch's dedication to public service and discussed the efforts to help construct the bridge, bringing applause and laughter from the crowd during the joyous event. Concluded Gelfand, "His leadership leaves a legacy for all those who will cross the Mike Gotch Memorial Bridge today and for generations to come."
Alexander recalled how Gotch helped develop the Mission Bay Master Plan, which included the bridge. "I am delighted and impressed that the City worked so closely with the community, and (it) has now fulfilled its promise to make this a reality," stated Alexander.
Shortly after the official ribbon-cutting ceremony, Councilmember Faulconer, while riding on a metallic-blue colored bicycle, led a contingent of happy people across the bridge for the first time. Faulconer noted, "Beach lovers can finally bike around all of Mission Bay Park, one of San Diego's crown jewels."
"The state-of-the-art bridge has lighted pathway, marked paved lanes, and facilitates night-time use," said Heinrichs. "It took many hands on deck to bring this kind of project to fruition, but it was completed on time and within budget." The $2.9 million bridge construction started in May 2011 and was complete in 11 months.
Photo Gallery
(Click images for larger view)