Matchmaking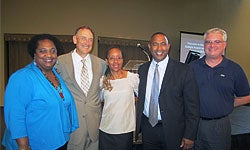 September 20, 2012
Surprise Guest Mayor Jerry Sanders, Council President Anthony Young, Dr. Shirley Webber of the Citizens' Equal Opportunity Commission, and other City officials gathered to launch the Small and Emerging Local Business Enterprise Outreach for the very first Multiple Award Construction Contracts (MACC).
The event was held at the Joe & Vi Jacobs Center which is one of the crown jewels in Council District 4. Mayor Jerry Sanders made a surprise appearance to laud Council President Young for his efforts to bring the MACC to fruition. "No one has done more to make sure this day happened than Council President Tony Young," said Sanders.
The Multiple Award Construction Contract (MACC) is a contract delivery method that represents a significant advancement in the City's ability to expedite the contracting process for the many and varied types of construction projects.
"This has been a long time coming but we are finally here," said Young to the crowd. "The first MACC project task will be in my district. It will help boost our economy by putting people to work and will allow real opportunities for inclusion," said Young to the room filled with certified Small Local Business Enterprises (SLBE) and Emerging Local Business Enterprises (ELBE).
Also in attendance were the five (5) prime contractors on the shortlist to bid on the first MACC project task estimated at $9million. This 'matchmaking' outreach effort was designed to give the SLBEs/ELBEs face-to-face networking opportunities with prime contractors who will exclusively compete for tasks associated with MACC projects. This was not a typical 'trade show' event. There are real opportunities for inclusion on City contracting dollars. For the five (5) prime contractors, it was an opportunity to meet and develop relationships with certified SLBE/ELBE firms that are ready, willing, and able to participate on MACC project task orders.
"The City of San Diego is one of the first municipalities to offer the MACC. These prime contractors need you to meet their mandatory goals on these projects. It is like speed dating," joked Young. The two hour event left everyone expressing how happy they are to see this milestone come to pass.
Photo Gallery
(Click images for larger view)