?Hasta La Vista? to Utility Poles in Northwest Bay Ho
January 24, 2013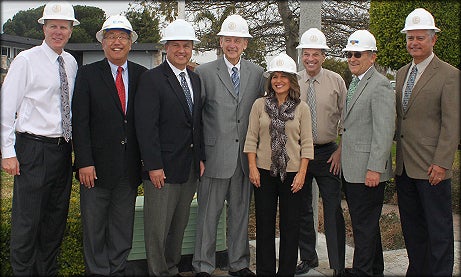 Pictured left to right: Councilmember Kevin Faulconer;
AT&T Director of External Affairs Randy Okamura;
Time Warner Cable Senior Director, Government
Relations Joe Gabaldon; City of San Diego Public
Works Department Director Tony Heinrichs,
Councilmember Lorie Zapf; Mayor Bob Filner; City of
San Diego Director of the Transportation and Storm
Water Department Kip Sturdevan, and SDG&E Regional
Vice President, External Relations Francisco Urtasun.
Mayor Bob Filner and other City of San Diego officials bid farewell to one of the last utility poles in the northwest section of the Bay Ho neighborhood on January 24. The pole was removed as part of a $10.8 million project to place four miles of utility lines underground. The project area is bordered by State Route 52 to the north, I-5 to the west, Clairemont Mesa Boulevard to the east and Jutland Drive to the south.
?What is happening here is a perfect example of putting neighborhoods first. The work being done here is not only going to make this neighborhood more beautiful, it will make it more safe and increase property values for homeowners here. It is a win all around,? said Mayor Bob Filner.
Bay Ho - Project Block 6J also installed 67 new streetlights and 58 pedestrian ramps. The city also will plant approximately 80 trees and resurface several streets. The undergrounding project will help neighborhoods all over the city be ?more safe, attractive and healthy,? the Mayor said.
The City, through its Utilities Undergrounding Program, is currently relocating approximately 20-25 miles of overhead utility lines underground throughout the city each year. Bay Ho - Project Block 6J is one various utilities undergrounding projects concurrently taking place in communities throughout the City to to convert unsightly overhead power and communication lines with safer and more reliable underground systems.
At the pole-removal ceremony on Jan. 24, Mayor Filner was joined by councilmembers Lorie Zapf and Kevin Faulconer; officials with the City?s Public Works and Transportation & Storm Water departments; and representatives from SDG&E, Time Warner Cable and AT&T.
?This is one of many beautification projects taking place throughout the City of San Diego, and I am proud to celebrate this accomplishment in our neighborhood.? Councilmember Zapf said.
"We're delivering real results for Clairemont. Each utility pole underground is an improvement to this community?s quality of life,? said Councilmember Faulconer. Thanks to the undergrounding effort, residents are less vulnerable to utility outages caused by wind, rain and other external factors."
Photo Gallery
(Click images for larger view)