A Celebration of City of San Diego Public Works Employees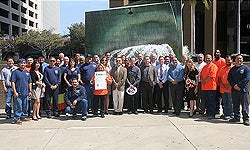 National Public Works Week is a celebration of the men and women in North America who provide and maintain the infrastructure and services collectively known as Public Works. This year?s theme, ?Because of Public Works?? focused on the improved quality of life in our communities ?because of?? clean water, safe streets, efficient traffic, and enhanced neighborhoods. Many City of San Diego employees joined Council Representatives and Public Works Management at the May 21 Council Meeting, held in the Council Chambers Office, for the reading of the ?National Public Works Week? proclamation.
Council President Todd Gloria, Public Works Director Tony Heinrichs, and Public Works Assistant Director James Nagelvoort extended a heartfelt thank you for the hard work and services provided by our Public Works employees. Tony Heinrichs gave credit to ?our often-unsung heroes who serve the public good every day with quiet dedication improving our neighborhoods and communities with streets, parks, buildings, and infrastructure projects.? Councilmember Mark Kersey read the proclamation recognizing all City employees and declaring May 19 through May 25 ?The City of San Diego National Public Works Week!?
Photo Gallery
(Click images for larger view)