Belmont Park, Liberty Carousel Horses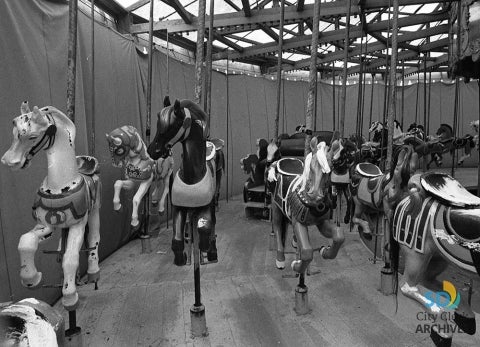 Magnify by hovering your mouse over the image. Zoom in/out with the mousewheel.
Photo by City Photographer, 6/15/1977
Belmont Park was opened in 1925 as the Mission Beach Amusement Center. The Liberty Carousel is an antique reproduction. Pictured in the hand-painted scenes are Father Junipero Serra as he is about to settle Mission San Diego de Alcala, Charles Lindbergh's airplane The Spirit of St. Louis flying over the Giant Dipper Roller Coaster, the Hotel Del Coronado and a 1920's beach scene - all patterned after photographs preserved by the San Diego Historical Society.
Provide feedback for this photo
Provide feedback for "
Belmont Park, Liberty Carousel Horses

"