Mayor Curran with 1967 Miss World USA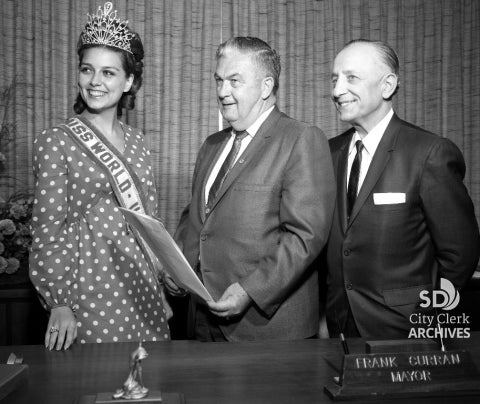 Magnify by hovering your mouse over the image. Zoom in/out with the mousewheel.
Photo by City Photographer, 1968
Frank Curran, 1967 Miss World USA Madeleine Hartog Bell, and Alfred Petricelli, Executive Director of Miss World USA, in the Mayor's office. Madeliene Bell, representing Peru, was crowned on November 16, 1967, in the Lyceum Ballroom in London. She went on to become a successful medical-legal interpreter for various companies in the United States. She participated in a USO Show with Bob Hope at San Diego Stadium in 1968.
Provide feedback for this photo
Provide feedback for "
Mayor Curran with 1967 Miss World USA

"