Quince Street Pedestrian Bridge - 1970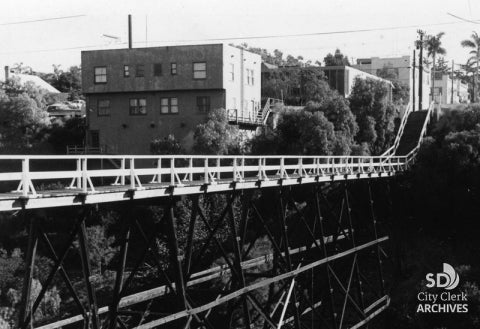 Magnify by hovering your mouse over the image. Zoom in/out with the mousewheel.
Photo by Unknown, 1970
The Quince Street bridge was designed by city engineer George A. d'Hemecourt and Bankers Hill residents. Built in 1905 at 236 feet long and 60 feet tall, it spans Maple Canyon between Third and Fourth Avenues. It was originally built to allow residents better access to the Fourth Avenue trolley line. In 1987, the San Diego Historical Site Board voted to designate the footbridge as an historic site. It was closed for 2 years for restoration, reopening in 1990 with beams and planks replaced by pressure-treated douglas fir.
Provide feedback for this photo
Provide feedback for "
Quince Street Pedestrian Bridge - 1970

"