Fire Station 26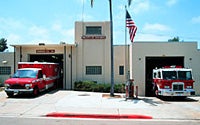 Fire Station 26 was originally opened at 3880 Kearny Villa road in 1958. In August 1959 it moved to its current location and the old station became Fire Station 28.
Fire Station 26 serves Chollas/Redwood Village and its surrounding areas. Engine 26's district is 3.39 square miles.
Specialty Station - Medical
The personnel at Fire Station 26 are all Firefighter/Paramedics and responsible for orientation and continued training of field paramedics and maintenance of emergency medical equipment. The paramedic bike team is also located at Fire Station 26.
Apparatus