Careers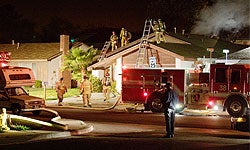 Choosing a career as a Firefighter is the beginning of a journey. It can be one of the most challenging, exciting, and rewarding experiences of your life.
Firefighting is an inherently dangerous occupation. Emergency calls may lead to a brush fire, structure fire, automobile accident or life-threatening medical emergency. Each call has to be responded to with urgency and professionalism.
Firefighting is very physically demanding. This may include climbing many flights of stairs while fully equipped. Firefighters can carry 80-100 pounds of equipment such as hoses, axes, ladders, chain saws, and extinguishers to rescue victims and extinguish the flames. The Department provides time and equipment during your shift to maintain the expected level of fitness.
Firefighters live one-third of their career in a fire station. Work shifts are 24-hour increments, nine to 11 times per month. Firefighters live and sleep in dormitory-style quarters while on duty.
When not out on a call, firefighters must constantly work at keeping the station and equipment in excellent condition. Much of the firefighters' station time is spent maintaining living quarters, the fire station and the equipment.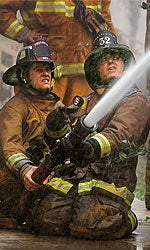 A career in firefighting can be a fulfilling experience offering you many advantages:
Be a community leader and role model;
The opportunity to save and change lives;
The satisfaction of succeeding at a challenging and rewarding career;
The pride in serving the people of your community; and
Being a part of the emergency services family.
There are also many excellent benefits, including:
Competitive monthly salary
Paid Fire Academy training
Career advancement opportunities (Firefighter - Fire Chief)
Desirable work schedule (up to 21 days off per month)
Paid vacation days and holidays
Medical/dental/vision insurance
Life insurance
Flexible spending accounts (health and dependent childcare)
Defined contribution retirement account with employer match
Retiree medical trust
401(k) plan
Deferred compensation savings plan
Tuition reimbursement
Uniform allowance
Specialty pay/bilingual pay
Job security
Opportunities Include:
Related Opportunity:
If you have an emergency, dial 9-1-1. More information on calling 9-1-1.
For other career questions or concerns, see the Frequently Asked Questions, call 619-533-4341 or email [email protected].