William Gore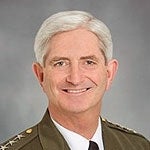 William D. Gore was appointed the 29th Sheriff of San Diego County in July 2009 and was elected a year later in June 2010. He oversees one of the largest sheriff's departments in the nation with 4,200 employees, an annual budget of over $780 million and a service area of over 4,400 square miles extending to a 60-mile international border. 
Along with patrol and investigative operations, his department provides air support, search and rescue service and forensic support for the San Diego region. His department operates seven detention facilities countywide and provides security to nine courthouses. 
Gore is well known for his regional approach to law enforcement and for his energetic deployment of technology to the front lines of enforcement including spearheading the Law Enforcement Coordination Center. Prior to joining the Sheriff's Department, he had a highly successful, 33-year career with the FBI.