Shelly Zimmerman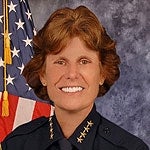 Shelley Zimmerman proudly serves as the Chief of the City of San Diego Police Department (SDPD). She was born in Cleveland, Ohio, and is a graduate of Ohio State University with a degree in criminal justice. She is also a graduate of the FBI National Academy, a nonprofit, international organization of nearly 17,000 senior law enforcement professionals dedicated to providing our communities, states, countries and profession with the highest degree of law enforcement expertise, training, education and information.
With extensive investigative experience, Zimmerman has worked many of the SDPD's patrol commands including the Vice and Narcotics Division, Internal Affairs Unit, Multicultural Community Relations Office, Mayor's Executive Protection Detail, Narcotics Task Force and the Field Lieutenant position.
Zimmerman has assisted in the security planning for several large events in San Diego such as the Super Bowl, Republican National Convention, major conferences and the Independence Day holiday at San Diego beaches where more than one million local and visitors come to enjoy each year.
Zimmerman has received numerous awards and citations throughout her career which have included the San Diego Press Club Headliner of the year award for her undercover work, the San Diego Business Journal's Woman Who Mean Business Exemplary Service Award for her civic involvement with business and residential communities, the San Diego Police Foundation Women in Blue Award for her commitment to making San Diego one of the safest large cities in the United States and the Gold Key Award from the Hotel-Motel Association for her commitment to the hospitality and tourism industry.