Posting Notice
The locally designed poster offered below is being provided for your convenience and includes all three posting languages condensed into one easy to use notice. Alternatively, the Attorney General's Office for the State of California has also created a model template which can be found on their website: Office of the Attorney General
Locally Designed Posting Notice
The posting notice below is available in two print sizes, both 11x14 and 11x17. The 11x14 notice should be printed on 11x17 paper and can be trimmed to down to 14 inches.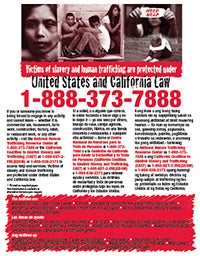 Posters
Businesses required to post
Adult or sexually oriented businesses
Bus stations
Business or establishments that offer massage or bodywork services for compensation
Emergency rooms within general acute care hospitals
Farm labor contractors
Intercity passenger rail or light rail stations
On-sale general public premises licenses under the Alcoholic Beverage Control Act
Primary Airports
Privately operated job recruitment centers
Roadside rest areas
Truck stops
Urgent care centers
To find the Attorney General's model notice, and more detailed information on the specific types of required businesses, please review the Attorney General's website at: Office of the Attorney General
Posting Location
Posted in conspicuous place near the public entrance, or in another conspicuous location in clear view of the public and employees where similar notices are customarily posted.
Posting Dimensions
At least 8.5 inches by 11 inches
Written in 16 font
Posting Languages
Notices must be posted in English, Spanish and in one other language that is most widely spoken in the business or establishment's location. The following four languages, in addition to English and Spanish, have been identified by the Attorney General's Office for San Diego County.
Tagalog
Traditional Chinese
Simplified Chinese
Vietnamese