Fire Chief Colin Stowell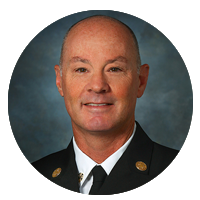 Chief Colin Stowell is the 18th fire chief of the San Diego Fire-Rescue Department (SDFD). Chief Stowell was hired by SDFD in 1988 and has served in every rank in the department. He earned an associate degree in fire science from Miramar College, a bachelor's degree in public administration from San Diego State University and completed the Executive Fire Officer Program at the National Fire Academy.
Chief Stowell was promoted to captain in 2002; battalion chief in 2007; deputy chief in 2012 and finally, assistant chief in 2015. As one of two assistant fire chiefs with SDFD, he oversaw the emergency operations division, which includes 48 fire stations, lifeguard services, the training division, emergency medical services, and special operations comprising hazardous materials, air operations, the bomb squad, and fire investigations.
As a captain, he served as the department's first wellness officer and developed the initial concept and procedures for SDFD's regional Wellness Program. As a deputy chief and assistant fire chief, he served on the San Diego All-Hazards Incident Management team as incident commander and operations section chief.
In 2016, Chief Stowell accepted a position as the fire chief for Heartland Fire & Rescue which serves El Cajon, La Mesa, and Lemon Grove. He was responsible for four operating budgets as well as capital improvement projects. He handled contract negotiations and oversight and was accountable to three city managers and city councils.  
Chief Stowell is a native San Diegan who lives in our city with his wife who is a special education teacher and their two young adult children currently attending college.