Waste Tire Enforcement Program
California generates approximately 33 million waste and used tires every year, roughly equal to the combined total generated in Illinois, Maryland, Michigan and Missouri.
The Solid Waste Local Enforcement Agency (LEA) has embarked on a successful program to regulate the roughly 2 million waste tires generated each year in the City. Every year since 1999, the LEA has been awarded a Waste Tire Enforcement Grant (link is external) from the state Department of Resources Recycling and Recovery (CalRecycle)* for the purpose of implementing an educational and enforcement program to increase proper management of waste tires and to minimize the illegal dumping of waste tires. In 2008, the LEA expanded the Waste Tire Enforcement program to adjacent incorporated cities that wanted to participate in the program. At this time, the LEA is collaborating with the cities of Chula Vista, El Cajon, Imperial Beach, La Mesa, Lemon Grove, and Poway.
*formerly known as the California Integrated Waste Management Board (CIWMB)
The Waste Tire Enforcement program is targeted at educating waste tire generators, end-users, haulers, and storage facilities regarding state waste tire rules and regulations. The LEA conducts frequent inspections of these businesses and works with CalRecycle to gain compliance. The Waste Tire Program has been successful in decreasing the incidence of illegal dumping in the City.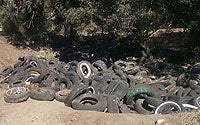 Waste tires and trash are also washed into the City of San Diego from Mexico via the Tijuana River. The LEA is a member of the Tijuana River Valley Recovery Team which is comprised of local, state, federal and nonprofit agencies committed to cleaning up and restoring the Tijuana River Valley. The LEA, as well as other local and state agencies, have obtained grants from CalRecycle to facilitate clean-up of waste tires in the Tijuana River Valley.