FOR IMMEDIATE RELEASE
Friday, May 28, 2021
CONTACT:
MayorPress@sandiego.gov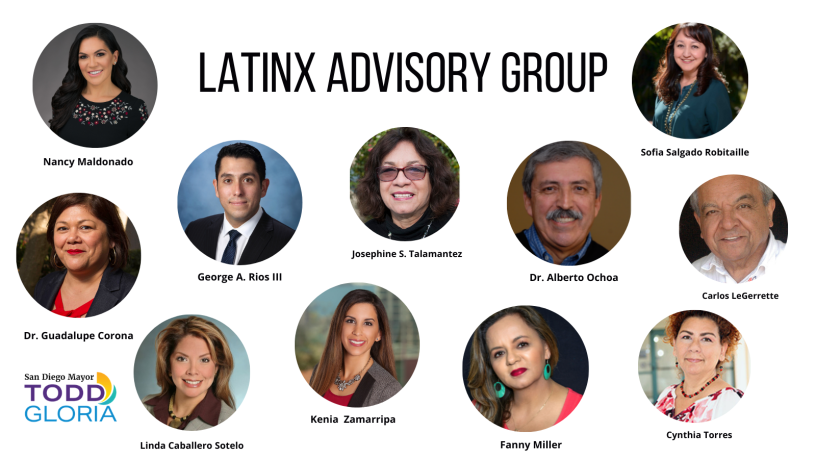 SAN DIEGO – As a part of his commitment to ensure more diversity, inclusion, and equity in the City of San Diego, Mayor Todd Gloria announced today the formation of his administration's Latinx Advisory Group (pronounced: LATIN-ex), and the selection of 11 extraordinary San Diegans who will guide Mayor Gloria's administration in tackling the unique challenges facing Latinx communities.
"This group of leaders represent the diverse backgrounds within our Latinx community and bring a needed and often underrepresented voice to the table," Mayor Gloria said. "Their extensive business, educational and social experiences will enhance our local and binational conversations, ensuring that we are inclusive and mindful of the needs of our Latinx residents."
The 11 initial members of Mayor Gloria's Latinx Advisory Group are:
Dr. Guadalupe R. Corona
Dr. Guadalupe R. Corona was born in National City and raised in San Diego. She has over 23 years of dedicated experience in diversity, equity and inclusion efforts in higher education. Currently, she is the director for the Office for Student Equity Programs and Services at Southwestern Community College District. Formerly, she spent eight and a half years at Alliant International University where she last served as the director of the International Students Services and Student Scholars Office, the Undergraduate Campus Director for the Sweetwater Campus and the system-wide director for Latino Achievement Initiatives. Corona received a bachelor's arts degree in liberal arts and sciences in Mexican American studies with a minor in women's studies at San Diego State University and received her master's in leadership studies from the University of San Diego. She completed her doctorate in educational leadership at the University of San Diego.
Carlos LeGerrette
Carlos LeGerrette's path was filled with organizing successes including being a founding member of student organization MECHa, Educational Opportunities Program Director at San Diego State University, special assistant to Governor Jerry Brown, board member of the Southeast Economic Development Corporation, director of San Diego Convention Center Corporation, operations director of Urban Corps of San Diego and the local AFL-CIO's Building Trades Pre-Apprenticeship Program which is now implemented nationally. LeGerrette retired from Cesar Chavez Service Clubs in June 2016 to focus on managing his collection of more than 3,000 photographs of Cesar Chavez and the farmworker movement.
Nancy Maldonado
Nancy Maldonado is the president and chief executive officer of Chicano Federation of San Diego County, a social services and advocacy organization that has been serving the community for 51 years. Prior to joining Chicano Federation, Maldonado owned and operated her own business. She holds a master's degree in exercise science from California State University, Northridge and a bachelor's degree in kinesiology from California State University, Long Beach.
Fanny Miller
Fanny Miller is the president and CEO of Latina & Associates, Inc., publisher of El Latino San Diego Newspaper, Celebrando Latinas Magazine, and creator of the Celebrando Latinas Conference. Miller has been recognized numerous times by the community and national organizations for her achievement in Hispanic publishing and business. Celebrating its 32nd year, El Latino-San Diego is today the largest Hispanic Women-Owned Spanish newspaper in California. Celebrando Latinas Conference is the largest Latina conference in Spanish in the nation.
Dr. Alberto Ochoa
Dr. Alberto M. Ochoa is professor emeritus in the College of Education at SDSU. He served as chair of the DLE Department at San Diego State University for over 15 years. He also served as the academic director of the Joint Doctoral Program between Claremont University and SDSU. He has maintained an active record of professional development, grant writing and service to the community. His academic work is action research based, while combining theory and practice in the resolution of equity problems confronting social and educational institutions. Ochoa has taught courses at bilingual credential programs and at the master and doctoral level that focus on bilingual teaching strategies, action research, race relations, social systems and socio-cultural-political foundations in the multicultural-multilingual context.
George A. Rios III
George A. Rios III is an attorney who handles civil litigation matters. Rios has represented individuals and businesses in a wide variety of legal disputes, including business transactions, employment relationships, real estate matters, construction defects and personal injuries. Rios is active in the legal community and community at-large and is the president of the San Diego La Raza Lawyers Association, a community of Latinx attorneys and their partners who are dedicated to justice, equality and the empowerment of the Latinx community and diverse people.  Rios is a member of the St. Augustine Alumni Board of Directors and Centre City Toastmasters. Rios is a graduate of San Diego State University, where he received his bachelor's degree in business management and a minor in economics in 2010. After attending SDSU, and a short stint as a substitute teacher, Rios obtained his Juris Doctorate from Loyola Law School, Los Angeles in 2014.
Sofia Salgado Robitaille
Sofia Salgado Robitaille is the executive director for the Southwestern College Foundation whose mission is to develop and deliver resources for student needs through trusted stewardship of charitable giving and meaningful community partnerships. She leads the foundation's strategic planning, marketing and operations efforts to promote student success through scholarships and leadership programs.
Previously, Robitaille was the executive director for MANA de San Diego, a nonprofit organization that empowers Latinas through education, leadership development, community service and advocacy.
A daughter of immigrant parents, Robitaille was born and raised in El Centro, Calif., where one in four live in poverty. Robitaille is a first-generation college graduate of UC San Diego, where she earned a bachelor's degree in communications.
Linda Caballero Sotelo
Linda Caballero Sotelo is the executive director of New Americans Museum, a visual arts and oral histories institution whose mission is to celebrate and educate about the contributions of all immigrants post WWII into the American narrative. Caballero Sotelo believes in the power of civic engagement and storytelling, as tools for participation and exposure to arts and culture as powerful catalysts and mediums for the integration, inclusion and celebration of multigenerational immigrant communities as part of the larger American fabric. She was born and raised in Tijuana, Mexico and is a binational, bicultural, multilingual Fronteriza who, as a child, crossed the border daily to attend school in San Diego. Caballero Sotelo received her bachelor's degree in International Relations and History from UCLA and USIU/US International University and Master of Arts degree in International Business and Economics, marketing concentration from Webster-Regents College, U.K. and London School of Economics. 
Josephine Talamantez
Josephine "Josie" Talamantez is a historian from San Diego. She co-founded Chicano Park in 1970 and helped develop it into a cultural National Historic Landmark containing the largest collection of artistic murals in the United States. Talamantez was also the chief of programs for the California Arts Council, served as the director of the Centro Cultural de la Raza, and was on the board of the National Association of Latino Arts and Culture.
Cynthia Torres
Cynthia Torres is a native San Diegan, who grew up in City Heights, attended Herbert Hoover High School and San Diego City College, then transferred to San Diego State University. Torres is the first in her family to graduate from a university graduated from San Diego State University with a degree in psychology then a master's degree in educational leadership with an emphasis in student affairs. Torres's passion is working with first generation students, like herself who come from low-income backgrounds and are first-generation. Torres's work experience includes San Diego Boy Scouts, SDSU Office of Admissions, SDSU Office of Educational Opportunity Programs/Ethnic Affairs and currently serves as the Undocumented Resource Center director at San Diego State University. Torres has been working at SDSU since 2001 and has been serving undocumented and mixed immigration status students, since 2009.
Kenia Zamarripa
Kenia Zamarripa joined the San Diego Regional Chamber of Commerce in June 2017 and currently serves as the executive director of International Business Affairs. In this role, Zamarripa is responsible for facilitating business, political and cultural relationships across the regional business community and advocating for business-friendly legislation that encourages cross-border trade and an improved binational business climate. In support of this, she leads the Chamber's team in the organization and coordination of an annual binational delegation trip to Mexico City to promote cross-border advocacy and quarterly International Business Forums that provide business leaders the essential knowledge and resources needed to thrive within the binational marketplace. Zamarripa earned her bachelor's degree in Marketing Administration from CETYS Universidad in Tijuana, Mexico in 2009. In 2015, she completed her master's degree in global marketing management from the University of Liverpool, U.K. In 2017, she also received her postgraduate certificate in human resources from the University of Liverpool, U.K. She is also a 2018 graduate of LEAD San Diego's Impact program and a member of the HOPE Leadership Institute's 2021 cohort.
During today's first virtual meeting of the group, Mayor Gloria addressed some of the issues affecting the Latinx community, including ways to encourage qualifying individuals within Latinx communities to apply for the rental assistance still available through the San Diego Housing Commission, informational updates on the Convention Center, as well as information surrounding bi-national and immigrant affairs.
Quarterly, advisory group members will have an opportunity to identify areas and issues that should be brought to Mayor Gloria's attention, as well as an opportunity to give Mayor Gloria feedback on policy.
More than 30 percent of San Diegans identify as Latinx.
###