FOR IMMEDIATE RELEASE
Tuesday, June 8, 2021
CONTACT:
MayorPress@sandiego.gov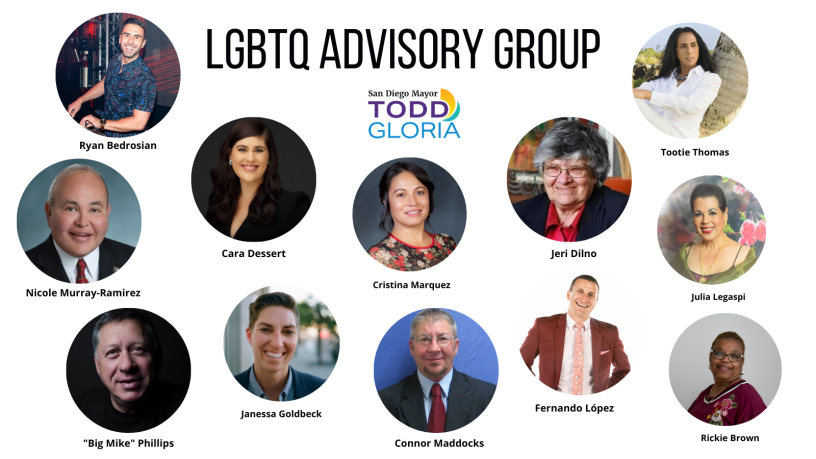 SAN DIEGO – In alignment with his goal of creating a more equitable and inclusive San Diego, Mayor Todd Gloria announced the appointees to his administration's newly-formed LGBTQ Advisory Group.
"As San Diego's first openly gay mayor, I understand that the LGBTQ community wants a seat at the table at City Hall," Mayor Gloria said. "Appointing leaders and advocates from the community to my newly formed LGBTQ Advisory Group ensures that the conversations and decisions made surrounding issues affecting our LGBTQ constituents are balanced and thought-out. I'm looking forward to the great leadership they all will provide."
The 12 local community leaders and advocates Mayor Gloria appointed will counsel his administration on issues most prevalent to the LGBTQ community. The 12 initial members of Mayor Gloria's LGBTQ Advisory Group are:
Ryan Bedrosian (He/Him/His)
Ryan Bedrosian is the owner of Rich's Nightclub located in the heart of Hillcrest and a San Diego resident for over 20 years. Before taking ownership of the club in 2020, he was the general manager of Rich's for the previous 12 years. He currently serves on the City of San Diego Police Chief's and the San Diego County Sheriff's LGBT advisory boards and is an officer of the Hillcrest Business Association.
Rickie Brown (She/Her/Hers)
Rickie Brown is a City Human Relations Commissioner and brings a long history of advocacy for the LGBTQ community and other historically underserved communities in San Diego. Currently, she serves as Senior Property Manager for Hollywood Palms Apartments, where she has held bottom-line responsibility for end-to-end property management functions, including tenant relations, facility security and maintenance, and oversight of contracted services. Outside of her day job, she has held several civic and community leadership roles in her work with City Heights Town Council, City Heights Area Planning Committee, Crime Survivors for Safety and Justice, African American Caucus, San Diego Chapter of the NAACP, and many others.
Cara Dessert (She/Her/Hers)
Caroline (Cara) Dessert, Esq. is the chief executive officer of The San Diego LGBT Community Center. Prior to being named CEO, she served as the organization's chief development and community engagement officer. A queer Latina, Dessert is an attorney and nonprofit executive with 15 years in social justice leadership. Dessert was previously the executive director of Immigration Equality, a national organization focused on LGBT immigrant rights. She completed her Juris doctorate at the University of California, Los Angeles School of Law, where she was the editor-in-chief of the Chicana/o Latina/o Law Review and earned degree specializations from the Epstein Public Interest Law and Policy and Critical Race Studies programs. She earned her bachelor's degree at the University of California, San Diego.
Jeri Dilno (She/Her/Hers)
Jeri Dilno came to San Diego in 1975, where she helped plan the first gay pride march and remained an active driving force in annual gay pride activities. She developed the first formal presentation about gay and lesbian health issues to the American Nurses Association; served as the first female executive director of the Gay Center and then served on and chaired its board. In 1999 she received the Lifetime Achievement Award for her years of service to the community and to Pride. She was the first female executive director of the San Diego LGBT Community Center, four-term president of the San Diego Democratic Club, and the assistant editor and editor of the Gay and Lesbian Times.
Janessa Goldbeck (She/Her/Hers)
Born and raised in San Diego County, Janessa Goldbeck is the founding principal of Sui Generis Strategies, a professional service firm that provides organizations with the tools to pass legislation and achieve meaningful change. A Marine Corps veteran, Goldbeck served openly following the repeal of Don't Ask Don't Tell, leading teams overseas as a combat engineer officer and managing engineering, logistics, and explosive ordnance disposal missions. In 2020, Janessa co-directed California Veterans for Biden and served as a member of the Women Veterans for Biden Council. She is a board member at the San Diego LGBT Center and MANA de San Diego and serves on the Victory Fund's Campaigns Board.
Julia "Jhigs" Legaspi (She/Her/Hers)
Born in Cavite City, Philippines, Julia or "Jhigs" as she is fondly called, holds a degree in business. In 1982, Legaspi opened "Jhigs' Hair Studio." An advocate and prominent leader in the LGBTQ and Filipino-American communities, Legaspi is the recipient of numerous awards from various civic organizations. In 2004, she was the first openly transgender person appointed to public office in the City of San Diego. She also carried appointments to the Equal Opportunity Commission and later to the Human Relations Commission. Legaspi was a former president of the Los Chabacanos of Cavite City, and is a current member of the Sheriff's LGBTQ advisory board.
Fernando López (They/Theirs/Them)
Fernando Z. López is the executive director of San Diego LGBT Pride and has worked with organizations such as Equality California and Marriage Equality USA, advocating for the rights of LGBTQ individuals, couples, and families. They are currently the chair of the Community Leadership Council's LGBTQ Youth Services and Advocacy Committee and a member of San Diego Unified School District's LGBTQ+ Community Advisory Committee. López has expanded LGBT voter outreach, increased San Diego Pride's international relations work by meeting with over 400 delegates from 127 countries around the world, helped to build a coalition of LGBTQ athletic organizations to combat homophobia in sports, and worked with U.S. law enforcement and armed services to increase LGBT sensitivity and compassion.
Connor Maddocks (He/Him/His)
Connor Maddocks has been doing advocacy and civil rights work in the San Diego transgender community since his transition 18 years ago. He is an active guest speaker and trainer to various organizations, businesses, colleges and healthcare agencies on transgender issues. He has worked with the San Diego County Sheriff's Department and the San Diego Police Department offering the very first trainings to officers on transgender issues, and also participated in the very first transgender training in San Diego for local law enforcement professionals through the U.S. Attorney's Office. Maddocks is currently on the San Diego Police Chief's advisory board, the Community Leadership Council, the University of California – San Diego's Anti-Viral Research Center Transgender Community Advisory Board and volunteers with numerous organizations.
Cristina Marquez (She/Her/Hers)
Cristina Marquez is a journeyman sound technician through the San Diego Electrical Training Center's apprenticeship program. Born and raised in San Diego, she graduated from San Diego State University on a full softball scholarship and majored in criminal justice with a minor in sociology. After, she moved to Las Vegas where she worked and continued her education in customer service relations. Marquez returned to San Diego where she became active with the International Brotherhood of Electrical Workers Local Union 569 where she became the Outreach Coordinator to help others learn about how they too could pursue a free education and a new career.
"Big Mike" Phillips (He/Him/His)
"Big Mike" Phillips is the co-founder of Ordinary Miracles, a charity organization. With the help of those in his community, Phillips has raised hundreds of thousands of dollars for many charities that support those with HIV/AIDS, cancer, autism, assisting children, servicing those in foster care, the homeless, donating food and offering shelter. After 42 years, Phillips retired from the food and beverage industry, and has been serving the City of San Diego by the invitation of every mayor since Mayor Dick Murphy by sitting on numerous charity boards, committees and organizations that have helped to better the lives of San Diegans. Phillips is a prolific photographer, who has been photographing people and events in the LGBTQ community for over 30 years.
Nicole Murray-Ramirez (He/Him/His)
Nicole Murray-Ramirez has advised and served the last eight mayors of San Diego and is currently both a City and County Commissioner. He is the chair of the International Imperial Court Council which has chapters in 70 cities in the USA, Canada and Mexico. Murray-Ramirez is also chair of the San Diego GLBTQ Historic Task Force and founder of the GLBTQ Vote Campaign. Murray-Ramirez is also on the national board of the Harvey Milk Foundation, the president of the National GLBTQ Civil Rights Network and associate publisher of the San Diego LGBTQ News.
Tootie Thomas (They/Theirs/Them)
Tootie Thomas has employed and worked alongside drag personalities and transgender people throughout the years, in which Thomas believes "principles before personalities." Thomas is a Māhū, which is a third gender in native Hawaiian and Tahitian cultures. They use performance as a way to be very "out" and heard when it comes to issues that concern the LGBTQ community; identity, workplace equality, relationships, youth, marriage equality, a committed plant-based lifestyle, substance abuse and sobriety. Thomas serves as a City Commissioner on the Human Relations Committee, is a board member and president at The Boulevard BIA, and executive director. They are also the chair of the Mid-City Community Parking District, a Copley-Price YMCA board advisor, and Williams Community Assistance Foundation, Inc. board member.
###