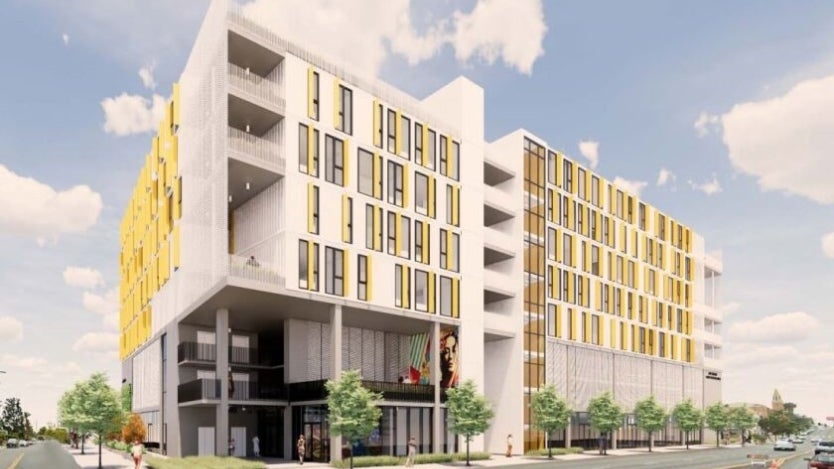 Mayor Gloria, Chair Fletcher Announce Application for State Homekey Funds
CITY AND COUNTY PARTNER ON PROJECT TO CREATE 40 NEW SUPPORTIVE HOMES FOR UNSHELTERED SAN DIEGANS
Mayor Gloria, Chair Fletcher Announce Application for State Homekey Funds
CITY AND COUNTY PARTNER ON PROJECT TO CREATE 40 NEW SUPPORTIVE HOMES FOR UNSHELTERED SAN DIEGANS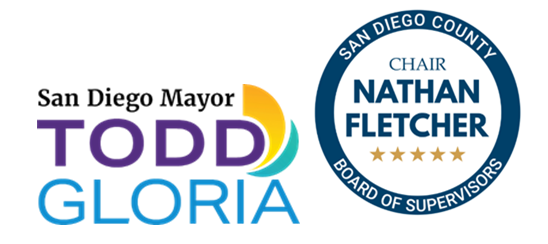 FOR IMMEDIATE RELEASE
Thursday, April 21, 2022
CONTACT:
MayorPress@sandiego.gov
San Diego Continuing their ongoing partnership in addressing San Diegos homelessness crisis, Mayor Todd Gloria and County Board of Supervisors Chair Nathan Fletcher today announced that the City of San Diego, the San Diego Housing Commission and the County of San Diego will apply for state funding under Project Homekey to finance a development that will result in 40 new permanent supportive apartments in El Cerrito for San Diegans experiencing chronic homelessness.
Once again, the City and County of San Diego are collaborating to meaningfully address homelessness, this time by placing unsheltered San Diegans into permanent homes with supportive services attached, said Mayor Todd Gloria. This is precisely what was envisioned by Governor Gavin Newsom and the state Legislature when they created Project Homekey, and Im grateful for all the ways the state is supporting local efforts to get unhoused residents into homes of their own.
Delivering viable opportunities for the unsheltered to leave the streets, get the rehabilitative services they need and put them on a trajectory to thrive is our goal for this new Project Homekey partnership, said Nathan Fletcher, Chair, San Diego County Board of Supervisors. This project is another example of the historic investments the County is making to tackle the homelessness crisis and build more housing across the region. No single entity can take on these challenges alone, and I am pleased to have great partners like Mayor Gloria, PATH and the San Diego Housing Commission working with us to take action and deliver results.
If approved by the state, the application will net at least $11.825 million in Project Homekey dollars half of the funding needed for the approximately $24-million development, called PATH Villas El Cerrito, a partnership between PATH Ventures, Bold Communities and Family Health Centers of San Diego.
In advance of the application being filed, the County Board of Supervisors will vote on Tuesday, April 26, on allocating approximately $11 million to the development for capital and a portion of future services and operating costs. In addition, the City of San Diego would provide more than $2 million from its share of funding from the state Permanent Local Housing Allocation program, which was established by Senate Bill 2, legislation by Senate President pro Tem Toni G. Atkins in 2017 that created a permanent source of funding for affordable housing. Nearly $3 million needed to complete the financing would come from loan funding.
The City of San Diego, through the San Diego Housing Commission, would also provide 40 project-based housing vouchers to help pay rent for the residents who previously experienced homelessness, which is essential for housing stability.
The building would comprise five levels of prefabricated, container-based housing units that will sit directly above a ground-floor integrated health and physical rehabilitation clinic to be operated by Family Health Centers. It would include five studio apartments, 17 one-bedroom apartments, 18 two-bedroom apartments and one managers unit.
The onsite clinic would offer preventative and medical care, mental-health care, outpatient substance-use treatment, dental care and other supportive services. The development would also include a dog park and a business center to help with job searches.
Family Health Centers of San Diego and PATH Ventures are proud to partner with the City and County of San Diego and Bold Communities to develop the El Cerrito Health Clinic and Affordable Housing community, said Fran Butler-Cohen, Family Health Centers of San Diego CEO, and Joel John Roberts, PATH Ventures CEO, in a joint statement. This site will provide much-needed healthcare services and housing to the neighborhood in a way that leverages state resources and local dollars to best serve formerly homeless and medically fragile individuals. Housing is healthcare and this new development shows a deep commitment to meeting the needs of the most vulnerable in San Diego.
The project location is at 5476 El Cajon Blvd. in El Cerrito, part of Chair Fletchers 4th Supervisorial District and City Council District 9, represented by Council President Sean Elo-Rivera.
Housing and supportive services are essential to addressing our homelessness crisis, Council President Elo-Rivera said. Im proud that the City and the County are partnering to provide sorely needed homes for people living on the streets, especially those in my district.
The Project Homekey application will be filed by the San Diego Housing Commission (SDHC), the County of San Diego and PATH Ventures. SDHCs Board of Commissioners will vote on the proposal to apply for the funding during a special meeting on Monday April 25.
The collaboration among the City, the County, the Housing Commission and development partners in support of this joint application demonstrates the ongoing, shared commitment necessary to create new housing solutions that address homelessness in San Diego, said Jeff Davis, SDHCs interim president and chief executive officer.
Construction is expected to start in November 2022 and be completed by summer 2023. A second phase of the development will create 140 additional affordable apartment homes 127 studios, 12 one-bedrooms and one managers unit. Construction on Phase 2 is expected to be complete by late 2024.
###
About PATH Ventures: PATHs affordable housing development and real estate arm, PATH Ventures, was created in 2007 and creates high quality, affordable and stable homes for families and individuals moving out of homelessness. PATH Ventures has more than 2,100 units of affordable and supportive units built or in the pipeline. More information at epath.org/path-ventures.
About Family Health Centers of San Diego: FHCSD is one of the nations 10 largest Federally Qualified Health Centers (FQHCs). We operate 58 sites across San Diego County, including 23 primary care clinics, 17 behavioral health facilities, eight dental clinics, an outpatient substance use treatment program, three vision clinics, physical therapy departments, two mobile counseling centers, three mobile medical units and a pharmacy to support services throughout San Diego County. Our staff provides care to over 227,000 patients each year, of whom 91 percent are low income and 29 percent are uninsured. More information at fhcsd.org.
About Bold Communities: Bold Communities is a minority-led organization that was established in 2021. As a new firm, we are actively sourcing developments and seeking partnerships with experienced developers, capital partners and service providers that are aligned with our mission to expeditiously and creatively not only address, but permanently solve, the housing crisis in California.