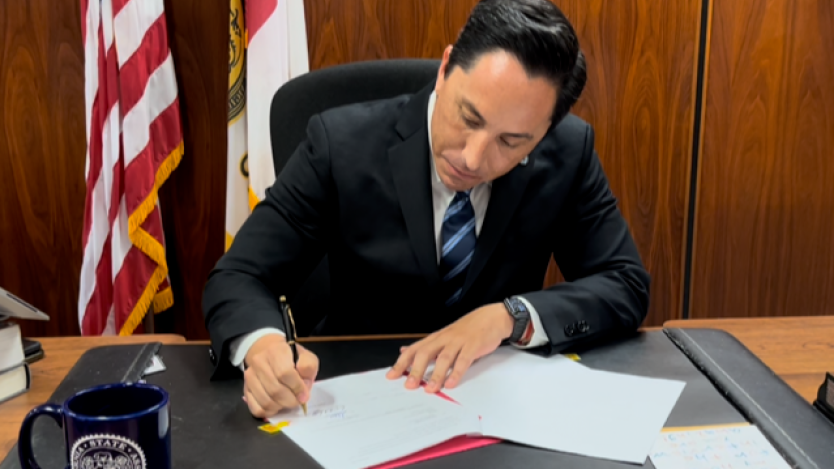 Mayor Gloria Signs Ordinance Restoring Pensions for City Workers
UNANIMOUSLY APPROVED AGREEMENT UNWINDS UNLAWFUL 2012 BALLOT MEASURE THAT COST TAXPAYERS
Mayor Gloria Signs Ordinance Restoring Pensions for City Workers
UNANIMOUSLY APPROVED AGREEMENT UNWINDS UNLAWFUL 2012 BALLOT MEASURE THAT COST TAXPAYERS
FOR IMMEDIATE RELEASE
Wednesday,Feb.2, 2022
CONTACT:
MayorPress@sandiego.gov
SAN DIEGO Mayor Todd Gloria signed the ordinancereinstating city employee pensionsfortwo ofthe Citys employeelaborgroupsandunwindingProp B, whichwasinvalidated by thestatesPublic Employee Relations Board and confirmed by the courts.The ordinance, passed unanimously by the City Council on Monday, reflects an agreement on retirement benefits with members of the Municipal Employees Association and AFSCME Local 127, as well as the City's unrepresented workers.
Uponsigning, theMayorissued this statement:
Today, I signed the ordinance to reinstate pensions for City employees, undoing an ill-conceived and illegally executed ballot measure that has had a host of negative impacts on city operations by putting us at a disadvantage in recruitment and retention of employees over the past decade.
The reality of Prop B, which I opposed when it was on the ballot, was that it sought to place the burden of politicians short-sighted decisions onto rank-and-file workers, who always paid their fair share into the pension system and who had already agreed to a hybrid plan that was financially sustainable.
In the end, this follybilled as a cost-saving measurewill costtaxpayersmore than$80millionto correctandin the meantime hasmade us a far lesscompetitive employer.ImpleasedSan Diego isfinally puttingthispublic policy failure behind us.
###