Sports Information Office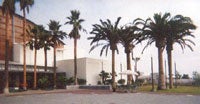 2145 Park Blvd.,
San Diego, CA 92101
(858) 581-7100
The Balboa Park Activity Center is also the Sports Information Office for the City of San Diego Park and Recreation Department. People can access information and phone numbers for most sports/athletic activities held throughout the city, including the swim hotline, municipal golf courses, youth sports, and a variety of other activities.
Telephone: (858) 581-7100
This phone system offers an extensive menu of options which provides detailed information on Balboa Park Activity Center hours of operation, activities, facility reservation procedures and much more - including Balboa Park special events, runs/walks, museum phone numbers, Municipal Gymnasium, Morley Field Sports Complex, Balboa Park and Presidio Park permits, Senior Services, Disabled Services information, and directions to the activity center.