Background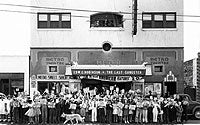 The community of Barrio Logan includes approximately 1,000 acres located between downtown San Diego and the Interstate 5 freeway along San Diego Bay. The predominately Hispanic community includes 3,600 residents and has a diversified land use character with a mixture of residential, commercial business, light and heavy industrial land use, governmental agencies as well as major maritime industries. A portion of the community is located within the Barrio Logan Redevelopment Area.
Land use in Barrio Logan is governed by the Barrio Logan/Harbor 101 Community Plan and Local Coastal Program. The 1978 Barrio Logan/Harbor 101 Community Plan and Local Coastal Program is one of over forty (40) community plans within the City of San Diego which augment the land use element of the City?s Progress Guide and General Plan. As policy documents, community plans provide goals and objectives for development of communities and designate where specific land uses should go. The Barrio Logan Planned District Ordinance is a tailored zoning ordinance for Barrio Logan which identifies permitted uses and development regulations for new development. The Barrio Logan/Harbor 101 Community Plan and Local Coastal Program and the PDO are coordinated with those of other jurisdictions, most notably the Port of San Diego which administers the area generally west of Harbor Drive.
---
La comunidad de Barrio Logan incluye 1,000 acres entre el Centro de San Diego y la autopista 5 cerca de la Bahía de San Diego. La comunidad predominantemente hispanos incluye 3,600 residentes y contiene un carácter variado del uso de tierra con una mezcla de usos residenciales, negocios comerciales, usos industriales, agencias del gobierno y también industria marítima importante. Una porción del la comunidad esta colocada en la área de restauración de Barrio Logan. El uso de la tierra en Barrio Logan es gobernada por el Barrio Logan/ Harbor 101 Community Plan de 1978 y el Local Coastal Program. El plan de 1978 y el Local Coastal Program es uno de 40 planes comunitarios en la Cuidad de San Diego cuales implantan el elemento del uso de tierra en la Guía de Progreso de la Cuidad y el Plan General. Como documentos de políticas, planes comunitarios proporcionan las metas y objetivos para el desarrolla de comunidades y declara donde usos específicos de la tierra corresponden ir. El Barrio Logan Planned District Ordinance (PDO) es una ordenanza de zonas adaptada para Barrio Logan cual identifica usos permitidos y reglamentos de desarrollo para nuevas construcciones. El Plan de 1978, el Local Coastal Program y el PDO son coordinados con los mismos documentos de otras jurisdicciones, especialmente con los del Puerto de San Diego cual administra la área al oeste de Harbor Drive.