Cold Case Homicide Team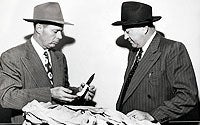 Courtesy of the SD Police Historical Association
The San Diego Police Department Cold Case Team is responsible for investigating unsolved homicide cases.
The team was created in 1995 and currently is comprised of investigators from the San Diego Police Department, the Drug Enforcement Administration, the Naval Criminal Investigative Service, and the U.S. Customs and Border Protection..
On this page, you will find information about unsolved homicide cases which have occurred in the city of San Diego. If you have information on any of the cases listed on this website, or any other San Diego homicide case, we strongly urge you to contact the San Diego Police Homicide Unit at (619) 531-2293.
If you wish to remain anonymous, you can call SD County Crime Stoppers at (888) 580-8477. You could be eligible for a reward of up to $1000 if your information leads to an arrest. Additional rewards, which may be posted for specific cases, are listed in the summary portion of that case.