Training

San Diego Project Heart Beat Training Center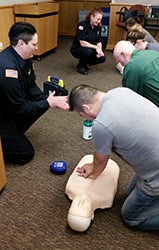 San Diego Project Heart Beat is an authorized American Heart Association Training Center and delivers quality CPR and AED classes. Flexible days and hours are offered throughout the San Diego region for many varieties of the AHA curriculum to suit your needs.
Individuals can be certified with Blended Courses TODAY or at your convenience.
Please contact the San Diego Project Heart Beat Training Center at (619) 243-0910 or [email protected] to schedule training.

American Heart Association Training Pricing