Donate

San Diego Project Heart Beat's (SDPHB's) mission is to save lives by placing Automated External Defibrillator (AED) devices throughout San Diego County and to provide CPR/AED education and awareness.
The goal of San Diego Project Heart Beat's Public Access Defibrillation (PAD) Programs is to improve the survivability of Sudden Cardiac Arrest victims by making Automatic External Defibrillators (AEDs) as accessible as fire extinguishers in public and private places.
Become an AED Angel and Help Save Lives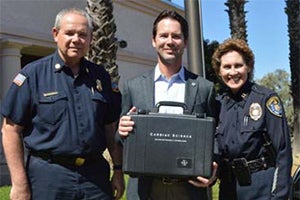 Become an AED Angel and help SAVE LIVES in your community. All proceeds help to provide these life saving programs to low-income, and not-for-profit, 501c3 type organizations.
Making a donation is easy!
You can make a tax-deductible donation to San Diego Project Heart Beat that will go towards placing AEDs with needy organizations. You can also donate an AED to a location in your name through San Diego Project Heart Beat's San Diego Foundation account. For more information call SDPHB at 619-243-0911.

By Mail:
San Diego Project Heart Beat
2580 Kincaid Road Blvd., 480/MS 602
San Diego, CA 92101