About Street Division
Our Mission Statement
"To provide a safe city street system through effective and efficient maintenance, with an emphasis on exceptional customer service."
We Go that Extra Mile...
San Diego is the seventh largest city in the country and growing. The challenge of maintaining the City's streets and structures is growing right along with it. Street Division maintains more than: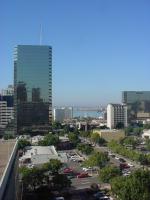 2,800 miles of street and alleys
5,000 miles of sidewalk
200,000 trees
70,000 drain structures
53,000 street signs
40,000 street lights
and much more.
Information Technology & Engineering Systems
Street Division relies on technology to project and plan for future maintenance. We also utilize innovative tools and techniques to do our job more efficiently and cost-effectively. Our primary line of defense is our "eyes on the street", residents who help us identify what needs repair. Anyone can report a street or structure repair 24-hours a day, seven days a week by calling 619-527-7500 or by using the online Service Request system.
Our inventory management section catalogs and tracks everything from work completed to the exact number of trees in the right of way. Using state of the art GIS systems and software co-designed by us, we can analyze the condition of streets slated for repair and even use global positioning to track our street sweepers. Our system is routinely used as a model for other agencies and municipalities, such as NASA, the city of Phoenix, Ocean County, N.J., and the Marin County Water District.
Please send any comments or suggestions about the Street Division web pages to [email protected]