2012 National Public Works Week Poster Available to the Public
April 17, 2012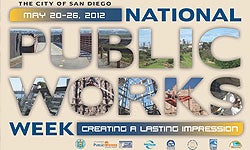 Themed "Public Works: Creating a Lasting Impression," this year's National Public Works Week will start on May 20, 2012. Observed on the third week of May, the annual public education campaign began in 1960 to call attention to the importance of public works in the community and provide an understanding of the work conducted by public works professions. Each year a new theme is selected.
"This year's theme conveys the importance of sustainable, cost-effective infrastructure projects that will benefit San Diego for years to come," said Public Works Director Tony Heinrichs.
To help commemorate the event locally, the City of San Diego developed a poster that will be on display on the first floor of its Administration Building. The poster has various images artistically placed within its text highlighting public works projects located throughout the City. These include construction of the new Central Library, restoration of deteriorating façades in Balboa Park, and other images of staff building and maintain City infrastructure.
"The City has nearly 2,000 hard-working public works professionals, who often serve away from the public's eye. The week distinguishes their unsung dedication to bringing to life the infrastructure that we all use and enjoy every day," said Heinrichs.