Upas Street Pipeline Replacement Project
Project Neighbors Bring Questions to Community Meetings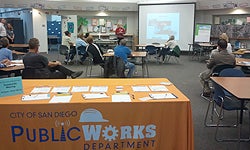 The top question raised at two recent community meetings: whether home and business water service will need to be interrupted for the planned replacement of 5 miles of water transmission main in Upas Street, Park Boulevard and 5th Avenue.
The answer: only along parts of the alignment, only for a few hours ? and always with at least 5 days? notice in advance.
Other questions had to do with the expected lifespan of the new pipeline (about 75 years), how construction will be sequenced along such a long alignment (work generally moves from one end of the project to the other, except where the sequence must be adjusted to avoid disrupting events in the community), and how the street will be resurfaced once the new pipeline is installed.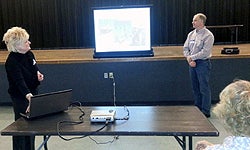 More than 20 project neighbors joined City staff and members of the City?s design and construction management teams at meetings on May 16, 2013 at the Roosevelt International Baccalaureate Middle School library and May 18, 2013 in the Recital Hall at the Balboa Park Club. Since the beginning of the year, the City has also been conducting extensive one-on-one outreach to the project?s many institutional and facility neighbors, including ? besides Roosevelt Middle School ? the Balboa Tennis Club, Morley Field, the San Diego Zoo and Balboa Park museums, the Boy Scouts, Girl Scouts, several faith communities, and several large condominium complexes accessed via Upas Street, among others. Because the project will require short-term lane closures and detours, a primary concern has been to make sure that each stakeholder?s ingress and egress needs are fully understood so inconvenience and disruption can be kept to a minimum.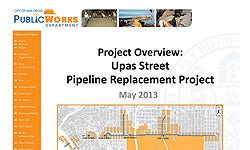 For up-to-date information about the project,or to view a complete transcript of questions and answers from the two community meetings, please visit the Upas Street Pipeline Replacement Project web page.