Official City of San Diego Seal
The official seal of the City of San Diego consists of a coat of arms within a circle. Above the arms are the names of the City and the state, and below the arms is the City's official motto.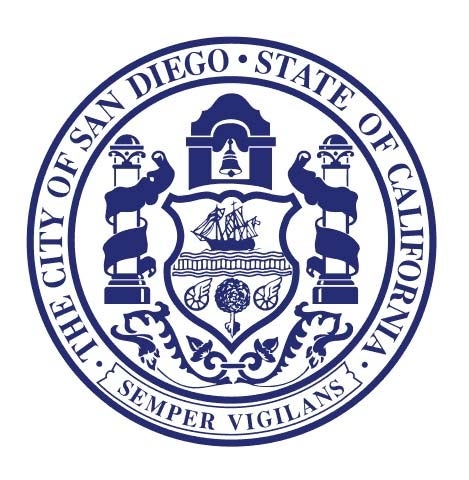 In 1913, the City Council authorized the City Clerk to invite design submissions for an official seal. The previous seal depicted an outdated cityscape. The winning design was the work of architect Carleton Monroe Winslow (1876-1946). Winslow would go onto design multiple buildings for the Panama-California Exposition in Balboa Park, and the Bishop's School in La Jolla. The new seal was adopted by Resolution 17024 on April 15, 1914.
Although the seal is usually shown in monochrome, it was originally designed to be in full color. The seal's heraldic description is:
Shield: Or (gold/yellow), a fess wavy Azure (blue); in chief a Spanish caravel in full sail Gules (red), pennons and flag Gules; in base an orange tree Proper, fruited and eradicated; between two winged wheels Gules.
Crest: A Carmelite belfry Azure, having hung therein a bell Or.
Supporters: The pillars of Hercules Azure, entwined with ribands Or.
Compartment: Two dolphins Vert (green), with eyes, fins and tail Gules, their tails linked together Or.
Motto: Semper Vigilans
The blue wavy band represents the City's position on the sea. The caravel represents the exploration and settlement by the Spanish. The orange tree represents agriculture, and the winged wheels represent manufacturing and transportation. The belfry suggests early settlement by the mission fathers. The pillars of Hercules are used as supporters to recall the ancient territorial jurisdiction of Spain. Similar pillars are part of Spain's coat of arms. The two connected dolphins symbolize the Pacific and Atlantic oceans, inseparably united by the Panama Canal. The motto, "Semper Vigilans," is Latin for "Always Vigilant."
There are two discrepancies in the seal's design. First, San Diego was founded by Franciscan priests, not Carmelites. Second, the ship was most likely supposed to represent the ship of Juan Rodriguez Cabrillo, the first European explorer to enter San Diego Bay. However, Cabrillo's flagship San Salvador was a galleon, not a caravel.
Links:

The Heraldic Seal of the City of San Diego
Seal of City -- Municipal Code §21.0101