CAB Lobby Display
Application and Guidelines
The purpose of the lobby displays at the City Administration Building (CAB), located at 202 C Street, is to increase public awareness of community, educational and cultural groups and activities in the City of San Diego.
Any government agency, employee organization, secular, non-profit group or organization requesting to use the display area for this purpose must complete a Request for Lobby Display Application. You will be contacted by the Office of the City Clerk within the three days following the submission of the application. 
Please note: Any non-government agency, non-profit group, or community/civic organization must be sponsored by at least one of the following: the Mayor's Office, a City Councilmember or a City-designated representative.
The display must be compliant with the Americans with Disabilities Act (ADA) regulations.
The display area is available for a maximum of two weeks. Requests must be made at least two weeks prior to the display date and is subject to availability.
Event attendance should be limited to 30 individuals at any given time.
You must furnish all of your own materials. Price tags on displayed items are not allowed, but typed names and phone numbers may be affixed to items.
The display area is limited to a space of 25ft. across the lobby area by 18ft. in depth. The space is visibly marked on the floor. All display-related material must stay within the designated display area. Otherwise, the materials will need to be removed.
City staff will not assist with any setup of displays nor will be able to respond to display-related inquiries.
The City of San Diego is not responsible for damage to or theft of displayed items.
NOTE: Your display must be removed on or before the date confirmed on the Request Application; Failure to do so may result in your organization's loss of its privileges for any future public awareness opportunities in the Lobby of the City Administration Building. Any displayed materials left behind will be disposed of.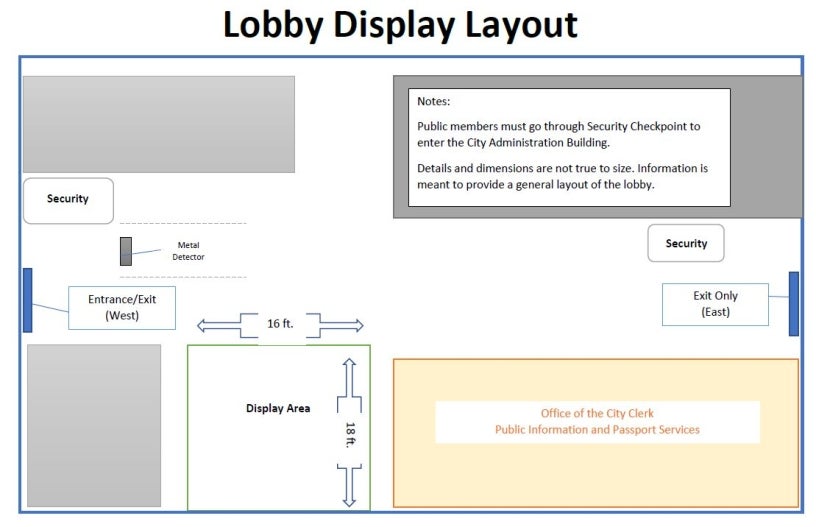 For more information, you may contact the Office of the City Clerk at 619-533-4000 or via e-mail at cityclerk@sandiego.gov