1925 Inspection at Cuyamaca Flume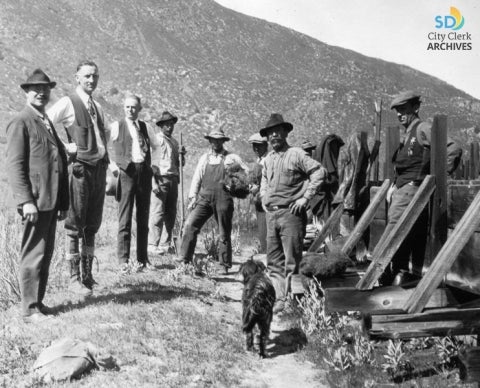 Magnify by hovering your mouse over the image. Zoom in/out with the mousewheel.
Photo by City Photographer, 3/13/1925
Ed Fletcher, co-owner of Cuyamaca Water Company, with an inspection party at Cuyamaca Flume in 1925. Approximately 37 miles long, the flume was built by San Diego Flume Co. 1886-1889, which became the Cuyamaca Water Company in 1910. Redwood lumber was brought by boat to San Diego harbor, cut to lengths and loaded on wagons for the trip inland. A total of 315 trestles carried the flume across valleys, canyons and ravines. The flume's usefulness was replaced with other water sources and now there are very few remnants remaining.
Provide feedback for this photo
Provide feedback for "
1925 Inspection at Cuyamaca Flume

"