1975-1976 American Freedom Train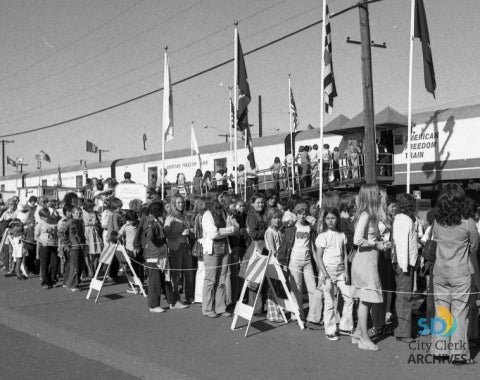 Magnify by hovering your mouse over the image. Zoom in/out with the mousewheel.
Photo by City Photographer, 1/16/1976
The American Freedom Train was in San Diego in January 1976 on its 48-state tour for the U.S. Bicentennial celebration. It was created to bring Americans the opportunity to review their heritage in 10 exhibit cars designed with special effects of sights, sounds and smells and a moving walkway that carried visitors from one exhibit to another. Historical documents and memorabilia of American achievements were gathered from private contributors, museums and historical societies. The tour lasted from April 1, 1975, until December 31, 1976.
Provide feedback for this photo
Provide feedback for "
1975-1976 American Freedom Train

"