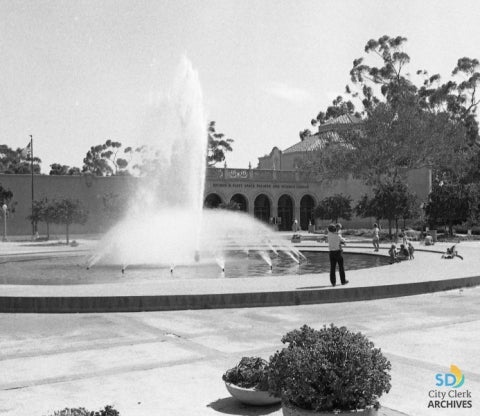 Magnify by hovering your mouse over the image. Zoom in/out with the mousewheel.
Photo by City Photographer, 1981
The Bea Evenson Fountain, located adjacent to the Reuben H. Fleet Space Theater, is named after Beatrice Barker Evenson. She was born in Oregon, moved to San Diego in 1924 with her husband Frank, and became active as a civic volunteer. In 1967 she formed 'The Committee of 100' to raise money and provide civic leadership to restore Balboa Park, starting with the esplanade, Casa Del Prado and ultimately aiming for all the buildings on the Prado. The committee's accomplishments include the complete restoration of the Organ Pavilion in 1984.
Provide feedback for this photo
Provide feedback for "
Bea Evenson Fountain

"