Dedication of Lindbergh Field in 1928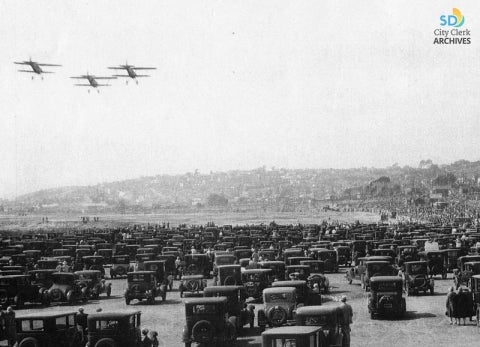 Magnify by hovering your mouse over the image. Zoom in/out with the mousewheel.
Photo by Lee Passmore, 8/16/1928
Dedication of Lindbergh Field on August 16, 1928. Biplanes performed in the air while a crowd watched from their automobiles. Inspired by Charles Lindbergh's historic 1927 transatlantic flight in his plane built in San Diego, the city funded the construction of a two-runway municipal airport. Lindbergh agreed to lend his name to it. San Diego International Airport is the busiest single-runway commercial service airport in the nation. The runway is 9,401-feet in length and 200-feet in width.
Provide feedback for this photo
Provide feedback for "
Dedication of Lindbergh Field in 1928

"