Department History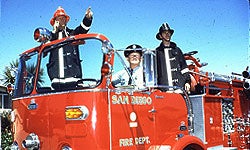 For more than 126 years, City of San Diego firefighters have kept a vigilant watch over their community. The Department's history is as rich and diverse as the area it serves.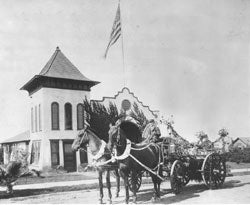 Firefighting, Pre-1900
On May 17, 1869, the Pioneer Hook & Ladder Company was established in San Diego with a budget of $250 and a volunteer staff of 50 people. John Valintine was appointed Fire Chief. By 1872, the Department had acquired its first Engine Company, Company 1, for a cost of $900. Engine Company 1 consisted of a thin, high wheeled, horse drawn wagon with twelve buckets hung over the side for hand-filled bucket brigades.
By 1887, volunteers used steam engines to battle fires. San Diego had two horse drawn steam fire engines, a hose wagon with 3,500 feet of hose, and eleven horses.
A Fire Department Is Born
A series of events in the 1880s brought the need for a paid fire department to the forefront.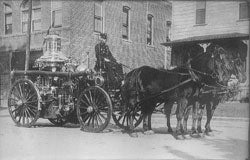 In December 1884, a huge fire destroyed one of the town's planing mills.
On May 3, 1888, a fire burned more than half the block bounded by Fifth, Sixth, F, and G Streets.
May 26, 1888, the San Diego Printing Company building was burned.
On June 1, 1888, the buildings of Foreman & Stone on Seventh Street were destroyed by fire.
August 29, 1888, a large A-frame building on H Street (Market), between State and Union, was consumed by fire.
On September 5, 1888, the new Backesto Block, on the corner of Fifth and H Streets, was destroyed by fire.
Because of a shortage of horses, ladder trucks had to be pulled by the firefighters.
San Diego's population grew from 3,000 in 1880 to 30,000 by 1887. On August 5, 1889, a City Charter Amendment established the San Diego City Fire Department. The department started with forty-one men, eleven horses, two Steam Fire Engines; one Hose Wagon, two Hose Carts, one Hook & Ladder; and four thousand feet of hose. The total worth of the department, in materials, apparatus, horses and equipment, was $22,572.75.
The newly formed San Diego Fire Department was lead by Chief Engineer A.B. Cairnes
Early Fire Pay and Duties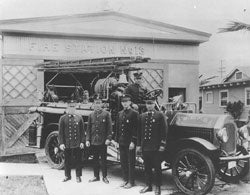 The City's first overall pay structure for the Fire Department was established in 1889 to attract veteran talent from throughout the country. The City Charter Amendment allowed for the payment of firemen then known as Foremen and Extramen:
Foremen received $12.50 a month.
Extramen were paid $10.00 a month.
Engine Drivers and Hose Carriage Driver ($75.00 a month) made considerably more because of their additional responsibilities.
Top pay was reserved for Engineers ($100 a month) who had the duty of maintaining the fire steamers. As the fire team left its quarter to respond to an alarm, the Engineer rode on the rear step of the steamer. His first job was to ignite the boiler.
This full time paid department expected firemen to be available 24 hours at a time. The first schedule that was set up required the firemen to work 29 days straight, for 24 hour periods. They were given one hour off for meals per day and one full day off per month. Due to this demanding schedule, the families of these firemen lived in the fire station permanently.
An Uneasy Beginning
In 1904, a new era in San Diego firefighting began with the appearance of the city's first fire hydrants. Firefighters no longer had to draw water from wells and cisterns to extinguish flames.
In 1905 Ray Shute took the reins from Chief Cairnes as Chief Engineer. Chief Shute had come to the position with experience working for both San Diego and San Francisco Fire Departments.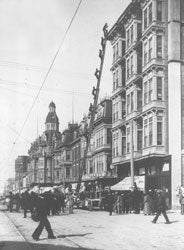 But the San Diego City Fire Department's early days remained difficult. From the start, the Department struggled with a limited budget. As 1907 rolled around, the Fire Department was riding with short crews, worn out equipment and using mostly condemned hose. That same year, the Department made a significant change when it introduced the dormitory system designed to eliminate the crews' families living in the station. In 1909 with morale and conditions at the stations at an all time low, a young, successful businessman and former member of the Department, Louis Almgren, stepped in to take over the helm.
Raising the Bar
Chief Almgren's reign as Chief Engineer marked an era of expansion and innovation for the San Diego City Fire Department. He immediately set out to change the work schedule. Firefighters went from working 24 hours a day, 28 days in a row with one day off, to 12 hour rotating shifts on a 28 consecutive day schedule with two days off.
Department standards were significantly raised by the introduction of training and physical conditioning programs. A merit system was established as a more equitable means of selecting and promoting personnel.
San Diego became the first major fire department on the West Coast to be totally mechanized. In 1917, the last team of fire horses was turned over to the City Yards where they continued their service to the City by hauling trash to the dump.
This decade also brought about several firsts for minorities in the San Diego Fire Department. In July of 1918, Alfredo Salazar became the first Mexican-American Fireman hired by the Department. One year later, history was made again by Timothy Augustus Williams, who became the first Black Fireman for the SDFD.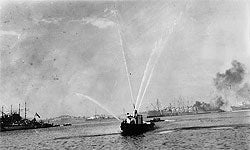 In 1919, the San Diego Fire Department christened the first gasoline powered fire boat in the world. The boat, the "Bill Kettner" was built from the keel up at the San Diego Fire Department shop, by firefighters. The fire boat had the ability to pump ten powerful hose streams and had two deck guns.
In 1935, a quarter century after he began as Chief Engineer, Louis Almgren retired from the Fire Department due to ill health. Chief Almgren is remembered for putting the San Diego Fire Department on a path of high professionalism and performance. Almgren was succeeded by Chief John Parrish, the first to carry the title of "Fire Chief" rather than "Chief Engineer."
Post-World War II
During WWII, San Diego saw a major boom in population and building construction. Homes were being built on canyon rims throughout the City and were fast becoming a fire problem. In July of 1942, nine buildings on the rim of Mission Valley were badly damaged or destroyed by fire. Again, in September of 1944, forty buildings along the rim of the 30th Street canyon were damaged by a wildland fire.
After 12 years, Chief Parrish turned the Department over to George Courser in 1947. Courser took over a department which had recently lost nearly a score of its veterans through a mass retirement because of a pension change.
San Diego received a Police and Fire Patrol Boat in August of 1948 and named it in honor of former Fire Chief Louis Almgren. The boat was equipped with twin engines, high-pressure pump and nozzles, CO2 Extinguishers, two way radios, and life saving devices. The Chief Almgren was manned 24 hours a day by a crew of two firemen. Besides fire fighting and life saving, their duties included patrolling the bay, yacht basin, sport fishing docks and commercial fishing piers.
By 1956, the Department had 26 Engine Companies, 2 Truck Companies, 1 Fire Boat, 1 Patrol Boat, 25 Fire Stations and 416 Firefighters.
In 1951, Chief Courser set another milestone when he issued a standing order integrating the Department. Prior to this, the African American firefighters were only permitted to work at Station 19 at 36th and Ocean View Blvd.
In August of 1974, the San Diego Fire Department hired the first five female Firefighters in the Department's history. After a lengthy and controversial six-week probationary training period, an assessment by the Training Officers determined that these five women had failed to meet the physical requirements of the Academy phase of training and all five were fired.
It would be three years before the Department hired another female firefighter. Lonnie Kitch was successful during her training and probationary period and went on to serve 31 years for the Department, retiring in 2008 in the rank of Fire Engineer.
Century's End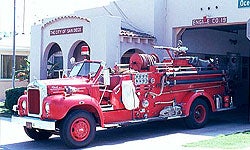 In 1980 the SDFD began training all its personnel as EMT's. This marked the start of a new modern day image as a fire department. No longer would we just respond to fires and rescues. Responding to medical calls brought a new challenge for the Department as the number and scope of emergencies greatly increased. With a booming City and the addition of medical aid calls, the response volume doubled in one year.
Fire Chief John Delotch became San Diego's first black Chief in 1985. Under his direction, the Department committed minorities to command positions, including Battalion Chief, Assistant Fire Marshal, and Captain. Among Chief Delotch's many contributions to the Department was a new emphasis on the Incident Command System and introduction of the EMT-D certification to firefighters. The EMT-D program was the first in the nation where First Responders had the ability to assess and defibrillate a person in cardiac arrest prior to the arrival of Paramedics.
Restructuring of City Services in 1998 brought the Lifeguard service under the direction of the Fire Chief and the San Diego Fire Department was renamed San Diego Fire and Life Safety Services. This clumsy new name was not warmly welcomed by members who preferred the SDFD which had stood for more than 100 years.
Additionally, a first-of-its-kind EMS system was created. Under a public-private partnership, San Diego Medical Services is a Paramedic ambulance system staffed by San Diego Fire Paramedics and EMTs as well as Rural Metro Paramedics and EMTs. Prior to 1997, all Advanced Life Support (ALS) ambulances were staffed with two Paramedics. This new system called for one Paramedic and one EMT on each ALS ambulance. To meet the County requirement for two Paramedics at the scene of all emergencies, all Fire Engines in the City were staffed with one Firefighter/Paramedic.
This decade also saw continued growth and expansion in the City as well as the Department. Fire Stations 41, 42, and 43 were built.
New Millennium
Fire Chief Jeff Bowman, came to San Diego Fire in April 2002 from the Anaheim Fire Department. Chief Bowman's arrival marked a time of new ideas and progress for the Department. Among his contributions, Chief Bowman pushed for new apparatus, opened dialogue among the ranks to address operational issues, and set short, medium and long-term goals for the Department. He also changed the name of the Department back to SDFD:  the San Diego Fire-Rescue Department.
After four years leading the Department, Bowman retired and Assistant Fire Chief Tracy Jarman stepped in to fill his shoes. Chief Jarman had risen through the ranks of the Department to become the 15th Fire Chief for the San Diego Fire Department, and its first woman Fire Chief.
October 2009 saw another changing of the Fire Chief as Chief Jarman retired after 25 years of service. To take her place was Chief Javier Mainar. Chief Mainar was hired in 1980 and spent a large portion of his career as a Captain in the Metro Arson Strike Team (MAST) unit.
Throughout this decade the Department made many positive changes. Almost the entire fleet of fire engines, fire trucks and brush apparatus has been replaced. The Department saw the expansion and construction of four new fire stations, station 44, 45, 46, and 47. The Department also upgraded its fire communications system. It was also a period of financial constraints during the severe recession at the end of the decade. To meet the required budget cutbacks, the department "browned out" eight fire engines a day for seventeen months.
In 2011, a consultant report recommended San Diego build nineteen more fire stations to meet the needs of the City's growing population. In 2015, the first permanent fire station in Mission Valley was opened and the Hazardous Materials apparatus moved there from Station 44. Temporary Station 51 was also opened in 2015 in Skyline Hills.
Chief Mainar retired in 2015 and Assistant Chief of Operations Brian Fennessy succeeded him in November of that year.
Firehouse Museum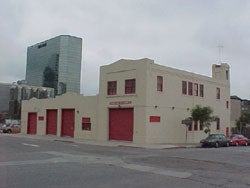 Photos Courtesy of the San Diego Firehouse Museum.
To see San Diego's Fire Department history up close, visit the San Diego Firehouse Museum - Pioneer Hook & Ladder Company, 1572 Columbia Street, San Diego, CA. 92101; Phone 619-232-3473. The museum is open Thursday and Friday, 10 a.m. - 2 p.m., and Saturday and Sunday, 10 a.m. - 4 p.m. Volunteers are always welcome.
Special thanks to Captain John Brubaker for much of the research and insight that has gone in to this page.