Fire Station 36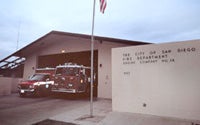 Fire Station 36 cost $101,000 when it was built in August 1969.
Fire Station 36 serves East Clairemont and its surrounding areas. Engine 36's district is 5.32 square miles.
Specialty Station - Breathing Apparatus
Fire Station 36 is responsible for repairing and maintaining approximately 450 Self Contained Breathing Apparatus (SCBA) and approximately 1,400 Air Cylinders used by City of San Diego and Poway firefighters. SCBA's are portable air units that supply breathable air to firefighters when entering oxygen-deprived environments where the air supply is contaminated by smoke, toxic gases or other hazardous materials.
Apparatus