Emergency Management Services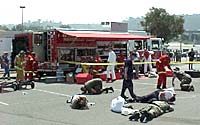 The San Diego Fire-Rescue Department oversees the City's Emergency Management Services. In the case of a major incident such as an earthquake, flood or terrorist act, the City's Emergency Management Services kick into action.
The division is tasked with:
Coordination of major emergency (disaster) mitigation
Preparedness
Response
Recovery processes by eliciting cooperative efforts between city business centers, departments and other governmental agencies in the development of integrated plans and exercises to insure readiness.
Coordination of Urban Search and Rescue
Emergency Management Services is dedicated to ensuring that city staff is prepared and trained to respond effectively and efficiently to major natural or manmade emergencies that impact the City of San Diego.
Binational Liaison with Mexico
Emergency Management leads the Binational Liaison program of the San Diego Fire-Rescue Department. San Diego Fire-Rescue Department staff participate in several emergency planning groups of local, state and federal emergency agencies from the U.S. and Mexico. The groups search for regional solutions to cross-border issues.
Several Fire-Rescue firefighters perform duties as Mexican liaisons, who interact with their counterparts from Mexico, under the oversight of Emergency Management.
County Swiftwater Rescue Team
The Swiftwater Rescue Team is made up of firefighters and lifeguards from several agencies throughout San Diego County under the sponsorship of Fire-Rescue and the Governor's Office of Emergency Services.
Two platoons of 14 Swiftwater Rescue Specialists comprise the Swiftwater Rescue Team.
The Team was deployed to Sacramento, California during the floods in January 1997, and in 2005, to Louisiana during Hurricane Katrina. The Team meets for drills and training on a monthly basis during the rainy season (November thru April) and every three months in the off season.