Elizabeth Bustos
Social Services Representative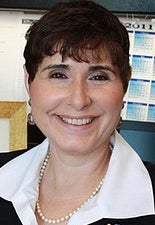 Elizabeth Bustos is a public health policy and community engagement executive and currently serves as the Director of Community Engagement for Be There San Diego, a coalition of patients, communities, healthcare systems and others working together to prevent heart attacks and strokes in San Diego.
She was previously the Director of Community Relations for the San Ysidro Health Center where she led strategic planning for all community relations and outreach activities for health center's service delivery network that serves more than 86,000 patients annually.
Bustos was also the Director of Strategic Business Development and Compliance for the Comprehensive Health Center from 2007 to 2008, Manager of Community Outreach and Prevention for The Whittier Institute for Diabetes from 2005 to 2006, and the Director of Family Services at the San Diego chapter of the Alzheimer's Association from 2004 to 2005. She received a bachelor of arts degree in social work from San Diego State University.