Cindy Marten
Superintendent San Diego Unified School District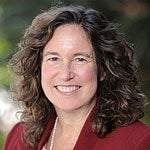 Cindy Marten is deeply committed to creating educational conditions that enable all children to become actively literate, contributing and participating members of a democratic society who make a positive difference in the world.
As leader of the second largest school district in California, Marten is implementing the Board of Education's-adopted Vision 2020 that includes creating quality schools in every neighborhood throughout the district with a singular focus on student success. Marten is spearheading the district's work in developing equitable instruction and service delivery systems to ensure that all students will graduate from San Diego Unified schools with the tools and skills necessary for success in their choice of college and/or career.
As an educator, she has pursued and chosen assignments in diverse, inner-city schools to honor deeply-held convictions about providing children with the very best school and classroom cultures that make it possible for them to become confident, curious and successful learners who will achieve their dreams. As a principal, she taught her students at San Diego's Central Elementary School that success in school and in life is achieved by following what she called "The Central Way" - Work Hard. Be Kind. Dream Big! No Excuses.