Commissioners
Joel Trambley, MD, PhD
Chair
Joel Trambley, MD, PhD began his diversity work in San Diego as volunteer for the No on Prop 8 campaign and a charter member and eventual Co-Chair of the local Human Rights Campaign Steering Committee. He has served on the Human Relations Commission since 2011 and is in his second full term as Chair. In addition to his work on the Commission, Dr. Trambley serves on the boards of the San Diego LGBT Center, the San Diego Continuing Education Foundation and America's Finest City Softball League and on the Fund Development Committee of the Environmental Health Coalition. After eight years as a hospitalist at the UCSD Medical Center, he joined Family Health Centers in 2016 with a focus on Hepatitis C. He remains active in many causes and campaigns, and writes the "Politically Aware" column in San Diego LGBT Weekly.
Jessica L. Nare
Vice Chair
Jessica L. Nare manages the Women's Resource Center at San Diego State University where she teaches university-level courses in the Department of Women's Studies. Jessica also serves as a core faculty member in the College of Letters and Sciences at National University. Previously, she worked at Jewish Family Service of San Diego as the Director of Leadership Programs. Jessica currently serves on the board of SDSU's Bread and Roses Center, is a member of Women Give San Diego, Run Women Run, and a former fellow of the San Diego Leadership Alliance.
Monica Bauer Federman
Monica Bauer is the Associate Regional Director of the Anti-Defamation League (ADL) in San Diego and ADL's Coordinator of Latino Community Relations for the State of California. She coordinates the civil rights and government affairs agendas, the outreach and interfaith initiatives and coordinates Latino affairs for the five ADL California offices. The Anti-Defamation League, founded in 1913, is a Jewish civil rights organization fighting anti-Semitism and discrimination through programs and services that counteract hatred, prejudice and bigotry. In 2011, Monica was appointed by former Mayor Jerry Sanders to the City of San Diego Human Relations Commission. She has been serving as a commissioner since. Additionally, she is part of the Latino advisory group for Mayor Kevin Faulconer. Monica is originally from Mexico City. She received her undergraduate and graduate degrees from Universidad Iberoamericana in Mexico City. She moved to San Diego in 1999 with her husband and three children.
Dion Brown
Dion Brown currently serves as a Human Relations Commissioner for the City of San Diego. He is also the Vice Chair of the San Diego County Social Services Advisory Board. In both positions he champions the concerns and issues facing those in need within the city and county. Additionally, he serves on the UCSD Chancellor's Advisory Committee on Gender Identity and Sexual Orientation. He also volunteers for Voices for Children as a CASA, a court appointed special advocate for a child in foster care. He serves on the San Diego Police Chief's LGBT Advisory Board and held the position of Treasurer, among many positions, while serving on San Diego LGBT Pride Board of Directors. Through his volunteer service as a Precinct Inspector for San Diego Registrar of Voters, Dion works to be a welcoming face, especially to minority and elderly voters. Dion is a graduate of San Diego State University. Dion's community service was recognized in 2016 by UCSD as an Equal Opportunity/Affirmative Action and Diversity awardee and a San Diego LGBT Center's Bayard Rustin Civil Rights awardee.

Dolores Canizales
Dolores Canizales holds a bachelor's degree from San Jose State University in Public Relations. She is a graduate of the US Chamber of Commerce Institute for Organization Management, and holds a certificate from Harvard-MIT public disputes program. She is a member of the Union Tribune Latino Advisory Board, Poway Unified School District Partners in Excellence program, and a member of the Poway Road Corridor Study ad-hoc committee. Ms. Canizales was appointed president & CEO of the Poway Chamber of Commerce in August 2012, and formerly served as District Director for Councilwoman Janice Hahn and as Community Affairs Manager for former Mayor Richard Riordan in Los Angeles. She also worked as Director of Community and Government Relations at Loyola Marymount University.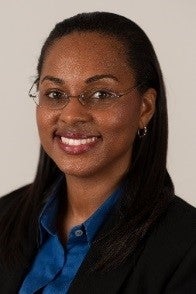 Tinesia Conwright
Tinesia Conwright is a San Diego native passionate about encouraging positive development in youth and within her community. After completing her bachelor's degree in Public Administration at San Diego State University, she entered the nonprofit field through launching Depositing Empowerment Through Outreach & Urban Redevelopment (DETOUR). DETOUR's youth development programs: The Focused And Naturally Confident Youth (FANCY) Teen Girls Expo, Leadership Academy, and Scholarship Program have empowered over 500 girls since inception. Tinesia is a LEAD San Diego graduate, a licensed Professional Development Board Certified Coach (BCC), and received her master's degree in Nonprofit Management & Leadership Program from the University of San Diego.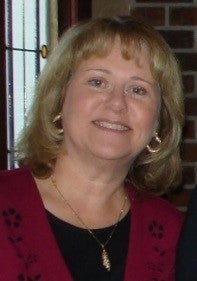 Faye Detsky-Weil
Faye Detsky-Weil is a registered volunteer Medicare Counselor for Elder Law & Advocacy's Health Insurance Counseling and Advocacy (HICAP) Program. Ms. Detsky-Weil served for five years as City of San Diego Ethics Commissioner. She has been active in numerous organizations, including 10 years on the Torrey Pines Community Planning Board serving as Chair, Vice Chair and Secretary; volunteer Paralegal for Nursing Home Rights Enforcement Program at Elder Law & Advocacy; a member of the Torrey Pines High School Foundation Board; co-chair of Torrey Pines High School Student Success Services; and a member of Del Mar Heights Elementary School's Site Council. Ms. Detsky-Weil received the 2001 City of San Diego Community Service Award. She is formerly an Instructional Systems Designer with L-3 Communications and Science Applications International Corporation (SAIC), designing and developing training for the Department of Defense on aircraft, health care, and computer systems. She received her undergraduate degree in Psychology from Northeastern University in Boston, holds a Massachusetts Teaching Certificate in Secondary Education, and earned a Paralegal certificate from UCSD.
Stephen Groce
As a 10-year resident of Clairemont, Stephen Groce, his wife Angela, and three children Dario, Giuliana and Alida have decided to plant roots in the community, despite career opportunities that offered relocation packages out of state. This decision is why Stephen joined the Clairemont Town Council. As a fulltime husband and father, passionate entrepreneur, and career business and Financial Asset Protection Professional, he has gained a wide range of experience that has allowed him to maintain a sense of balance during multi-tasked and unpredictable times.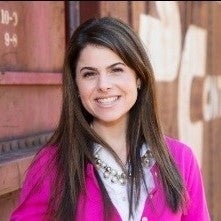 Shana Hazan
Shana Hazan is a community leader, educator, and proud parent. She serves as Senior Director of Resource Development at Jewish Family Service of San Diego, where she oversees the agency's institutional and individual fund development, government relations, and public policy work. She recently designed and secured funding for the Linda Vista Kindergarten Readiness Network, which utilizes a collective impact model to address barriers to kindergarten readiness. She also designed and supervises the Hunger Advocacy Network, an innovative initiative comprised of social service agencies, anti-hunger organizations, and nutrition advocacy organizations that collaborate to support policies that increase food security. Shana serves on the California Children and Families (First 5) Commission, the City of San Diego's Human Relations Commission, and on the boards of CORE Educational Services, the Foothold Foundation, and Stanley Foster School of Engineering, Innovation, and Design. Previously, she developed JFS's nationally-recognized Youth Leadership Program model, and launched Emerging Leaders at JFS, which engages young professionals in leadership, philanthropy, and service. She also worked for ABC News in London, taught elementary school in Chicago's inner city, and served as Safe Routes to School Director for Active Transportation Alliance. She has also served on the executive committee of Run Women Run, chaired Women Give San Diego's Advocacy Committee, and served on the board of Young Nonprofit Professionals Network. Shana holds a Master's degree in Education and Social Policy from Northwestern University. In 2016, she was recognized by Assembly Speaker Toni Atkins as a 78th Assembly District Woman of the Year.

Godwin Higa
Godwin Higa received his bachelor's degree in education from the University of Hawaii, Manoa, Masters of Administration from Azusa Pacific University, and his Administrative Credential from the University of San Diego. He has been a principal, with San Diego Unified School District for 15 years. His passion is his students. He demands that all students are treated with the utmost respect and academically succeeding in their studies. He is an active member of the Mid-City community, and a member of the Citizens Review Board of San Diego. He is actively involved in the improvements of the Mid-City area of San Diego, focusing on safe schools, safe neighborhoods, and community improvements involving improved bike lanes, transportation, and safe walks to school and skate parks in the area. He is an active member of policy changes on student discipline, focusing on Trauma Informed Schools and Community, Restorative Justice and Restorative Practices in schools and the community. He is also an ongoing member of the Compassion Project of San Diego, International Day of Peace, and most importantly believes in human rights for all.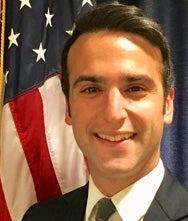 Patrick Hovakimian
Patrick Hovakimian serves as an Assistant U.S. Attorney for the Southern District of California, where he investigates and prosecutes public corruption and white-collar crime. Previously, he practiced law with the international law firm of Latham & Watkins LLP, and clerked on the United States Court of Appeals for the 11th Circuit. He holds a Juris Doctor from Stanford Law School, where he studied as a Truman Scholar and was a member of the Stanford Law Review; a Master of Philosophy from Oxford, where he studied as a Marshall Scholar; and a Bachelor of Arts, conferred summa cum laude, from Occidental College. Mayor Kevin Faulconer appointed him to the Human Relations Commission in 2016.
Keryna Johnson
Keryna Johnson has a masters degree in City Planning and a bachelors degree in Business Management from San Diego State University. Ms. Johnson is a Planning and Food Environment Specialist with the County of San Diego Health and Human Services Agency. Her work focuses on increasing access to healthy foods in underserved communities, and identifying ways to improve health outcomes through policy and built environment changes. She previously held positions with LeSar Development Consultants, the City of San Diego Planning Department, and various local nonprofits.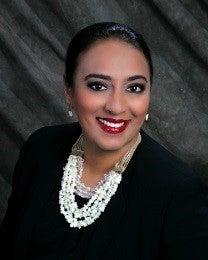 Gagandeep Kaur Sahni
Gagandeep Kaur Sahni, a resident of San Diego since 1998, has been a Financial Advisor for the over 20 years. She develops and manages financial strategies for individuals, small businesses, large corporations and nonprofit organizations to help protect them and grow. Ms. Kaur's community activities include serving on the Board of Directors for the Interreligious Council of San Diego, Board of Directors for The Sikh Foundation San Diego, the oldest Sikh Temple in San Diego, and as an Advisor for the San Diego District Attorney's Interfaith Advisory Board. Ms. Kaur had the honor of being the first Sikh woman to chair a national Sikh civil liberties organization based out of Washington DC. She believes that equality is a fundamental right of every human being on this earth. As such, Ms. Kaur believes the fight for equality for all will be a lifelong endeavor until it is a norm, not the exception.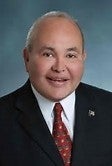 Nicole Murray Ramirez
Nicole Murray Ramirez is a 68-year native Californian who has dedicated over 45 years of his life to the Latino community, LGBT community, public service and social justice for all people. A charity and nonprofit fundraiser and leader in raising funds and awareness for those in need for over 40 years as the Chairman of International Court Council of USA, Mexico and Canada
Lillian Shallow
Lillian Shallow is the Youth Commissioner to the HRC. She currently attends San Diego High School and is enrolled in the International Baccalaureate program. She began her involvement in the Human Relations Commission in middle school, where she was also involved in many other community service projects. She spearheaded her school's community service program, with a focus on the environment as well as being a charter member of "The Bee Group" and the Environmental Saving Committee (ESC) and she is a participating member in Save the World Fridays. Since 2010 she has been an officer in the Cesar Chavez Service Clubs. In her free time she loves musical theatre and tennis.
Lorena Slomanson
Lorena Slomanson is a Staff Attorney with the Legal Aid Society of San Diego's Pro Bono Program which offers free services to self represented litigants in their court cases. A native San Diegan, Ms. Slomanson received her B.A. in Russian and Soviet Studies from UCSD and her J.D. from Thomas Jefferson School of Law, where she serves on the Alumni Association's Board of Directors. Prior to entering the field of public interest law, she enjoyed a diverse civil litigation practice focusing on personal injury and consumer protection. Ms. Slomanson has been recognized for her commitment to access to justice by the Board of Governors of the State Bar of California and by the Legal Aid Society. She is past president and continues to serve on the board of the San Diego La Raza Lawyers Association. She is fluent in Spanish and Russian.
Susan M. Thomson Tschirn, Ph.D
Dr. Thomson is committed to supporting the educational and emotional needs of the San Diego Community. Dr. Thomson is a counseling therapist in La Jolla and has been working with substance abuse clients for the last 20 years. Formerly, Dr. Thomson was an educational specialist in the area of learning challenges and emotional disabilities for young school children. Dr. Thomson is past President of the Board of Explorer Elementary, a Charter School in La Jolla of which she was instrumental in helping to launch. Dr. Thomson is also a past Board President of The Children's School, and past President of the Parent's Association of The Bishop's School. Dr. Thomson has been deeply committed to the Vista Hill Foundation where she has chaired their annual gala for three consecutive years, raising money for the Don Allen Parent Care Family Recovery Center, and other Vista Hill Programs. Dr. Thomson received her first Master's degree from the University of Arizona followed by a second Master's degree and Doctoral Degree and training from Tulane University in New Orleans.