Environmental Concerns Associated with Solid Waste
Why does the LEA exist? There are many public concerns associated with solid waste. This graphic outlines the major concerns associated with solid waste disposal.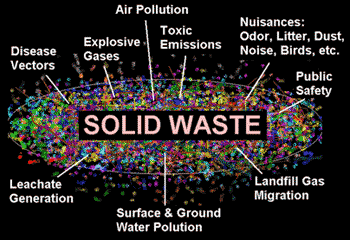 Landfill Gas
Decomposition of solid waste produces by-products that include gases, of which methane and carbon dioxide are the major constituents. Methane is a hazard because it is flammable and explosive. Landfill gas may also contain trace gases that may be detrimental to public health and the environment. Maintenance and monitoring of the landfill gas systems are necessary at both active and closed sites. During routine inspections of active and closed landfills, the LEA checks landfill gas monitoring wells to ensure compliance. For more information see the Air Resources Board, which also regulates landfill gas emissions.
Water Pollution
Solid waste facilities may become a source of water pollution. Landfill gas and leachate can migrate into groundwater aquifers and surface waters causing water pollution. For more information see the State Water Resources Control Board, which also regulates landfill water quality issues.
Nuisances
A nuisance is anything that is injurious to human health or is indecent or offensive to the senses and interferes with the comfortable enjoyment of life. Mismanagement of daily solid waste operations can be a source of vectors, odors, dust and litter.