Permitting and Inspections Programs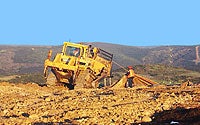 Responsibilities of the Solid Waste Local Enforcement Agency (LEA) include accepting and processing all new and revised solid waste facility permits, issuing permits, and conducting regular inspections of permitted facilities. The state Department of Resources Recycling and Recovery (CalRecycle)* must concur with the solid waste facility permit before it can be issued by the LEA. Any development plan proposing to handle, process, transport, store, or dispose of solid wastes including household trash and garbage, construction debris, commercial refuse, sludge, ash, discarded appliances and vehicles, manure, landscape clippings, and other discarded wastes shall contact the LEA for determination of the need for a solid waste facility permit.
*formerly known as the California Integrated Waste Management Board (CIWMB)
Active Landfills
The City of San Diego has two active landfills, Sycamore and West Miramar. West Miramar receives approximately 1.4 million tons per year making it the eighth largest landfill in California for the receipt of annual tonnage. The LEA inspects each site monthly for compliance with state minimum standards and to evaluate potential public health, safety, and environmental impacts associated with the site.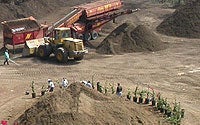 Transfer Facilities
Transfer facilities receive, temporarily store, separate, and transfer solid wastes from smaller to larger vehicles for transport. Some facilities may have a material recovery program to remove designated recyclables for alternative markets. The LEA conducts monthly inspections of transfer facilities and either annual or quarterly inspections of transfer operations.
Composting Facilities
Composting is the biological decomposition of organic material that occurs both naturally or in an artificially controlled process. The LEA conducts monthly inspections of all composting facilities within the City. For more information, see state Department of Resources Recycling and Recovery's Organic Materials Management.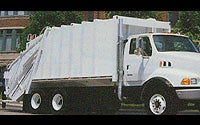 Solid Waste Haulers
Solid waste haulers within the City of San Diego must be inspected annually. The LEA inspects each vehicle for cleanliness, general maintenance and safety.
Closed, Illegal and Abandoned Dumps
Closed, illegal and abandoned solid waste disposal sites include older disposal sites that ceased accepting waste prior to the existence of closure and post-closure regulations. Illegal sites are sites where waste has been buried without proper permits and abandoned sites are sites that have no identifiable responsible party. These sites may pose a potential threat to public health, safety, and the environment from exposed waste, leachate, landfill gas, vectors and hazardous materials. Inspection frequencies may range from monthly to quarterly or annually, depending on the nature of the site.
Burn Sites
Trash burning was phased out in California in the early 1970s in response to federal and state clean air laws. Today, burn ash remains on some of these historic dump sites and is regulated as a solid waste. This regulation is necessary because burn ash is often found to contain elevated levels of heavy metals, such as lead, and other contaminants. The lead is a result of the burning of food cans with lead based solder, glassware, newsprint and materials painted with lead-based paint. Lead associated with burn ash becomes a concern when burn ash is exposed on a surface where small children are present who may ingest the lead-contaminated materials and/or soil. Lead contamination may effect normal childhood development.