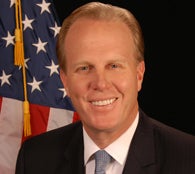 Kevin L. Faulconer became the 36th mayor of San Diego on March 3, 2014, on a campaign message of bringing San Diego together and restoring integrity to City Hall.
Mayor Faulconer leads the city under his platform of "One San Diego," an inclusive city government that creates opportunities and improves the lives of all residents in all neighborhoods. His administration is focused on reforming government into a responsive and results-driven organization that efficiently and effectively serves the public.
Mayor Faulconer has bolstered public safety, expanded services like parks and libraries across the city, and tripled the miles of roads repaired annually to meet his aggressive goal of fixing 1,000 miles of streets over five years. He has prioritized new funding and programs to reduce homelessness, making housing more affordable, growing San Diego's innovative and binational economy, and creating good-paying jobs for San Diegans.