Learn-to-Swim Program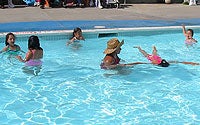 The Learn-to-Swim Program is designed to teach children, teens and adults to swim in a positive, fun and safe environment. The City of San Diego offers year-round swim lessons emphasizing logical skill progression, water safety awareness and endurance.
Please see our prerequisites page for classes. Instructors will also assess students' individual skills and abilities on the first day of class. Students may be transferred to a different class level or be required to repeat a class level.
The Pool Manager should be informed of a student's special needs before the first class session begins.
Fees provide instruction for five hours for group rates and two and a half hours for private lessons.
Please contact the pool of your choice for specific information.
Large Group (6+)
$54/Resident
$108/Non-Resident
Small Group (3-5)
$81/Resident
$162/Non-Resident
Semi-Private (2)
$151/Resident
$302/Non-Resident
Private
$181/Resident
$362/Non-Resident
Refund Policy
Patrons should put extra care into the selection of classes. There are NO REFUNDS.
Class transfers or credit toward another aquatic program may be requested and must be authorized by the Pool Manager.
A full refund will be granted only if the class is canceled by the Pool Manager.
For other questions or concerns, see the Frequently Asked Questions, call (619) 525-8213, or use the My Park web comment form.