Water Fitness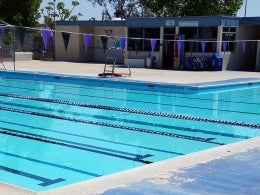 The City of San Diego Park and Recreation Department Water Fitness classes are designed for those who wish to engage in an effective low-impact physical exercise program. Flexibility, endurance, strength, and coordination are emphasized while eliminating stress on the joints and back.
The City of San Diego's Water Fitness Program offers a variety of classes to benefit the beginning participant as well as athletes looking for a low to no-impact cross training option. Those with medical concerns, swimmers and non-swimmers or those who just enjoy organized fitness programs held outside under the San Diego sun are welcome! (Consult your physician first before attempting physical exercise).
The Water Fitness Program is offered at most of the 13 City swimming pools.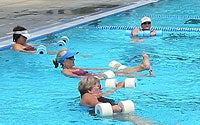 For more detailed information on the Water Fitness Program, please contact a pool of your choice.
Fees
$3.50 per class
$30.00 for a ten class pass
Fees and schedule are subject to change without prior notice.
Refund Policy
Patrons should put extra care into the selection of classes. There are NO REFUNDS. Class transfers or credit toward another aquatic program may be requested and must be authorized by the Pool Manager. A full refund will be granted only if the class is canceled by the Pool Manager.