Volunteer Opportunities
"You are the only person on this earth who can use your ability."
- Anonymous
Make a difference
Every year, hundreds of volunteers come to our city's parks, recreation centers and offices to give back to the community with their incredibly talented abilities. Volunteers from all different ages, and different backgrounds come together to enhance the importance of volunteer services supporting a variety of excellent programs and special events.
Are you motivated? Are you ready to show off your talent and abilities? See our

monthly volunteer opportunities calendar to see how you can help!
Volunteers can perform a variety of duties, including: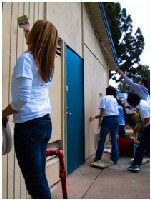 Contributing to the beautification of a community, neighborhood, regional or open space park.
Helping to restore a native environment, improve wildlife habitat and plant native plant materials.
Assisting people with disabilities so they can take part in recreation activities and special events such as wheelchair Over the Line, tennis, dances and camps.
Escorting seniors on day trips and serving refreshments at monthly dances.
Helping educate the public by leading historical, interpretive, and educational tours of parks and preserves.
Assisting in offices with such tasks as answering phones, arranging files and greeting visitors.
Providing access to natural areas so the public can enjoy the parks, preserves and canyons.
Improving the life of a child through recreation!
Volunteer opportunities are available for individuals or groups such as schools, company engagements, and clubs. A large portion of our volunteers consist of students at high school and colleges seeking to fulfill a community service requirement. Our incredible staff are more than willing to verify your hours. Who knows? Perhaps after your requirements have been met, you'll find you'd like to continue volunteering for your community.
"The ultimate expression of generosity is not in giving of what you have, but in giving of who you are."
- Johnnetta B. Cole