What Volunteers do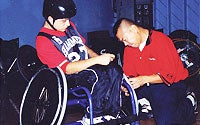 Volunteers perform a variety of duties including:
Contributing to the beautification of a community, neighborhood, regional or an open space park.
Helping to restore a native environment, improve wildlife habitat and plant native plant materials.
Assisting people with disabilities so they can take part in recreational activities and special events such as wheelchair Over the Line, tennis, dances and camps.
Escorting seniors on day trips and serving refreshments at monthly dances
Helping educate the public by leading historical, interpretive, and educational tours of parks and preserves.
Assisting in offices with such tasks as answering phones, arranging files and greeting visitors.
Providing access to natural areas so the public can enjoy the parks, preserves and canyons.
Improving the life of a child through recreation!
Check our volunteer program opportunities web page for more information.