Mission Bay Golf Course
Play at night under the lights, the only stadium lit course in San Diego!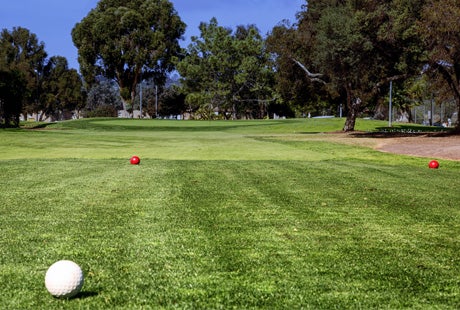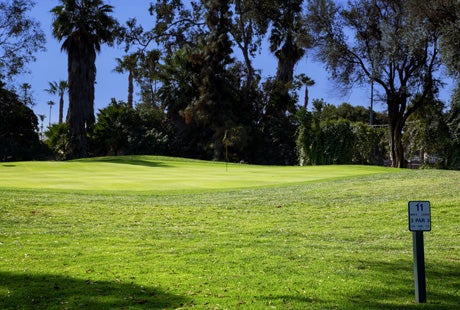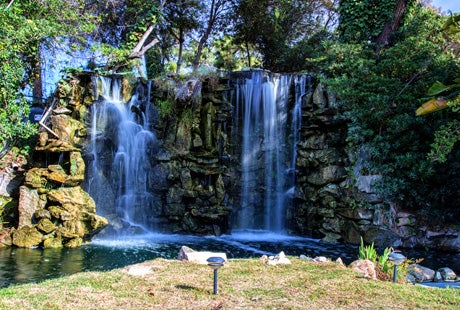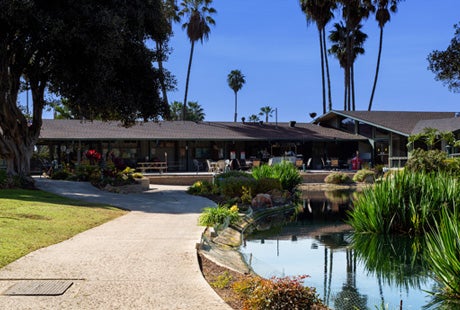 ---
---
Mission Bay Golf Course and Practice Center is an 18-hole executive course designed by Ted Robinson, former president of the American Society of Golf Course Architects. Measuring 2,719 yards, it sits on 46 acres in the heart of the City. It is the only golf course in San Diego with night lighting.
Located in the community of Pacific Beach, Mission Bay Golf Course is an 18-hole, par 58 executive course featuring four par-four holes and 14 par-three holes.
It is where Tiger Woods won a Junior World title.
---
Online Reservations Are Now Available
Book Tee Times Online for
Mission Bay Golf Course
---
Specials and Promotions
Weekday: Juniors who possess a current, San Diego city residents with Golf I.D. card are eligible to purchase a twilight monthly ticket for $10.50 per month. Non-resident juniors can play 18 holes for $20 or nine holes for $12.
Weekend: Juniors (resident or non-resident) can play 18 holes for $20.
---
Green Fees
Mission Bay Golf Course
 
SD City Resident
(with valid City Golf ID cards)
Non-Resident
Weekday (Mon-Fri)
18-Holes
$24.00
$29.00
18-Holes Senior (62 and over)
$17.00
$29.00
18-Holes Junior (17 and under)
* $10.50
$20.00
9-Holes
$14.00
$17.00
9-Holes Senior (62 and over)
$10.00
$17.00
9-Holes Junior (17 and under)
* $10.50
$12.00
Weekend
(Sat, Sun & Holidays)
18-Holes
$30.00
$36.00
9-Holes (all golfers)
$18.00
$22.00
Resident ID Cards & Junior Tickets
City Of San Diego Resident Golf ID Card
(Annual fee from date of purchase. Must show proof of residency to qualify)
$25.00
-
Junior Twilight Ticket
* - (30 day ticket. 17 yrs and under, San Diego City residents only. Valid Mon-Fri anytime except holidays.)
$10.50
-
Practice Range
Large Bucket
$10.00
$10.00
Medium Bucket
$8.00
$8.00
Small Bucket
$6.00
$6.00
Rentals
Power Carts (per rider)
$11.50
$11.50
Pull Carts
$4.00
$4.00
Golf Clubs (8 piece)
$11.50
$11.50
---
FootGolf
Fees
Time Offered
Weekday
Weekend
18-Hole
Available before 8 a.m. seven days a week, 2-4 p.m. Monday-Friday, 2-7 p.m. Saturday and Sunday
$18.00
$18.00
9-Hole
(Available after 7 p.m. seven days a week)
$10.00
$12.00
Ball Rental*
 
$5.00
$5.00
Walk-up play available all day upon availability
* ID Required for soccer ball rental. ID returned at round's end.
FootGolf times may be made up to seven days in advance.
Groups sizes up to six players available.
FootGolf Course is Par 71- Orange Tees 2,423 yards
For additional information on FootGolf, rules and etiquette, please visit http://www.footgolfcalifornia.com/about-footgolf.html.
For local FootGolf news and information, please visit http://www.footgolfsandiego.com/
---
Course Updates
COMMUNITY WORKSHOP TO HELP CHART THE FUTURE OF MISSION BAY GOLF COURSE
Mission Bay Golf Course could potentially be redesigned, relocated or removed altogether as part of the ongoing De Anza Revitalization Plan which will help design an iconic recreation destination for the entire region.
The City's Golf Division invites golf enthusiasts and members of the public who enjoy Mission Bay Golf Course to provide input and recommendations about what amenities they would like to see included as part of the plan which includes De Anza Cove Park, the mobile home and RV park, Mission Bay Boast & Ski Club, Bob McEvoy Athletic Field, Mission Bay Tennis Club and Mission Bay Golf Course. 
An important Community Workshop will take place Wednesday night, April 27th at 6 p.m. at Mission Bay High School to inform the public about the revitalization process and receive feedback from the public. At the workshop, the design team will discuss opportunities and constraints analysis findings, share case studies of visionary parks and park features from around the world, and solicit your program and design preferences for De Anza.
All suggestions are welcome and all options are possible.  Have your opinions heard and help shape the future of De Anza Cove. 
WHAT: De Anza Revitalization Plan Community Workshop
WHEN: 6 p.m – 8:30 p.m. – Wednesday, April 27, 2016
WHERE: Mission Bay High School, 2475 Grand Avenue, San Diego, CA 92109
For more information about the plan and how you can get involved, visit deanzarevitalizationplan.com.  A printable flyer can be downloaded

here for additional details.  
---
Course Info and Hours of Operation
The facility includes an 18-hole golf course, driving range (grass and mat teeing areas), practice putting greens, sand traps, chipping greens and refreshment hut. The starter booth offers club rentals, hand/power golf carts, golf balls, tees, gloves and hats. The Professional Golf Instruction staff offers group and individual golf lessons.
Tee times may be made up to seven days in advance by calling (858) 581-7880.
Tee times are from 6:30 a.m. to 8 p.m., weather permitting. The last 18-hole tee time is 6:22 p.m. and the last nine-hole tee time is 8 p.m. All players must end play by 9:30 p.m. as the course lights are turned off promptly at 9:45 p.m.
Practice Range hours are from 6:45 a.m. to 9:30 p.m. Range balls are available until 9 p.m. All players must end their practice by 9:30 p.m.
| Day | Date | Open | Close |
| --- | --- | --- | --- |
| Thanksgiving Day | Thursday, Nov. 24, 2016 | 6:30 a.m. | 5 p.m. |
| Christmas Eve | Saturday, Dec. 24, 2016 | 6:30 a.m. | 5 p.m. |
| Christmas Day | Sunday, Dec. 25, 2016 | 6:30 a.m. | 5 p.m. |
| New Years Eve | Saturday, Dec. 31, 2016 | 6:30 a.m. | 5 p.m. |
White Tees - 2,706 yards
Red Tees - 2,427 yards
---
Scorecard
---
Volunteer Information
---
Cart Rules
Carts must be kept on the paths around all tee and green complexes. Adherence to all cart rules is strictly enforced. Please help us maintain the golf course by following the posted cart rules, all Marshal instructions and staying on the cart paths whenever possible.
Should you have any questions or concerns, please call the Administration Office at (858) 581-7880.
---
Frost Delay
Golf Operations found the

Frost Delay Procedure to be the most equitable procedure for handling delays. We realize this may cause an inconvenience for our customers and we apologize for delays and/or cancellations.
---
For general Park & Recreation Department information, see the Frequently Asked Questions, call (619) 525-8213 or use the My Park web comment form.