Mission Bay Golf Course - One Course For All!
To qualify, cardholders must live in or own a residence within the San Diego City Council-defined districts.
Need help?  Download the ID.me + ForeUP User Guide

Offering DiscGolf and FootGolf!
Play at night under the lights, the only stadium lit course in San Diego!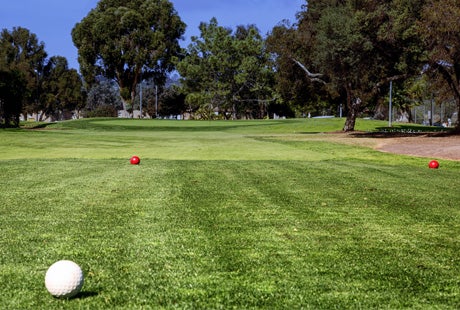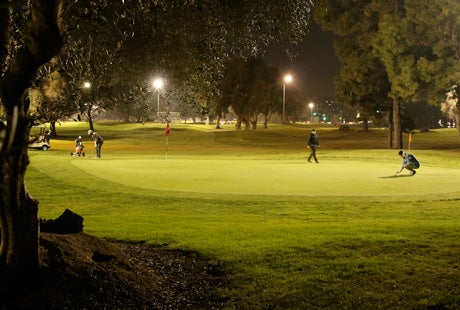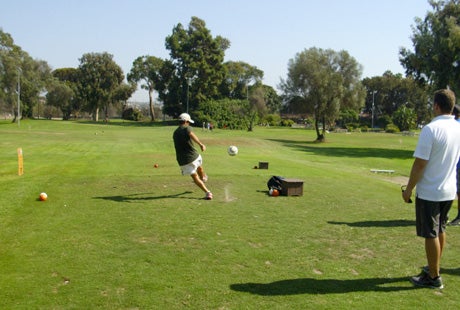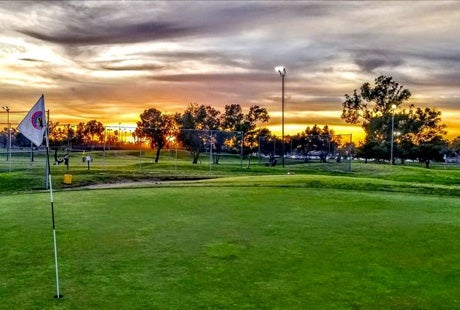 ---
---
Mission Bay Golf Course and Practice Center is an 18-hole executive course designed by Ted Robinson, former president of the American Society of Golf Course Architects. Measuring 2,719 yards, it sits on 46 acres in the heart of the City. It is the only golf course in San Diego with night lighting.
Located in the community of Pacific Beach, Mission Bay Golf Course is an 18-hole, par 58 executive course featuring four par-four holes and 14 par-three holes.
It is where Tiger Woods won a Junior World title.
---
Course Updates
Driving range, grass tees, are unavaillable beginning November 1 through the winter period.  During this period customers will be able to hit off of our premium, artificial, dual-turf mats.
Important - To stay up to date on the most current course information, please follow us on our social media channels or download the San Diego City Golf App.
Specials and Promotions
New! Juniors who possess a current, San Diego city resident Golf I.D. card (available for $25.00, good for 1 year from date of purchase) and a twilight monthly ticket (available for $10.50 good for 30 days from date of purchase) are now able to play 7 days a week and take advantage of the $0.00 green fee*.    This applies to Golf, FootGolf and DiscGolf.
*This is for walk on play or within a reserved group of paying players.
Weekend: Non-Resident Juniors can play 18 holes for $23.
---
Green Fees
2023 Rate Sheet - 2024 Rate Sheet

2024 Mission Bay Rates

(Rates effective January 1, 2024)

Timeframe
Rate Type
SD City Resident
(with valid City Golf ID cards)
Non-Resident
Weekday (Mon-Fri)
18-Holes
$28.00
$35.00
18-Holes Senior (62 and over)
$21.00
$35.00
18-Holes Junior (17 and under)
* $10.50
$26.00
9-Holes
$16.50
$22.00
9-Holes Senior (62 and over)
$12.00
$22.00
9-Holes Junior (17 and under)
* $10.50
$15.00
Weekend
(Sat, Sun & Holidays)
18-Holes
$35.00
$46.00
18-Holes Junior
* $10.50
$26.00
9-Holes 
$22.50
$28.00
 
9-Holes Junior
* $10.50
$15.00
Resident ID Cards & Junior Tickets
City Of San Diego Resident Golf ID Card
(Annual fee from date of purchase. Must show proof of residency to qualify)
$25.00
-
Junior Twilight Ticket
* (30 day ticket. 17 yrs and under, San Diego City residents only.)
$10.50
-
Practice Range
Large Bucket
$14.00
$14.00
Medium Bucket
$11.00
$11.00
Small Bucket
$7.00
$7.00
Rentals
Power Carts (Per rider fee*)
$14.00
$14.00
Pull Carts
$8.00
$8.00
Golf Clubs
$20.00
$20.00
*Only two golf carts permitted per tee time.  Single riders will be required to pair up if necessary.
---
FootGolf/DiscGolf
Fees
Weekday
Weekend
Daily Fee*
$20.00
$20.00
Ball Rental
$5.00
$5.00
Single Disc Rental
$2.00
$2.00
3-Disc Rental With Carry Bag
$5.00
$5.00
 
* With daily fee, first round is eligible for online reservation, additional rounds will be based on availability at time of play.  First available time is 6:30am, last reservable time is 8:00pm**
**Players who tee off after 6:22pm may not finish all 18 holes.
Reservations available online.  Walk-up play is also available.
FootGolf Course is Par 71- Orange Tees 2,423 yards
DiscGolf Course is Par 58 - Orange Tees 8038 Feet
For additional information on FootGolf, rules and etiquette, please visit American FootGolf League.
For local FootGolf news and information, please visit FootGolf San Diego
For additional information on DiscGolf, rules and etiquette, please visit Professional Disc Golf Association   
For local DiscGolf news and information, please visit San Diego Aces
---
Course Info and Hours of Operation
The facility includes an 18-hole golf course, driving range (grass tees closed November through March), practice putting greens, sand traps, chipping greens and refreshment hut. The starter booth offers club rentals, hand/power golf carts, golf balls, tees, gloves and hats. The Professional Golf Instruction staff offers group and individual golf lessons.
Tee times are available online at our online booking portal
Tee times are from 6:30 a.m. to 8 p.m., weather permitting. The last 18-hole tee time is 6:22 p.m. and the last nine-hole tee time is 8 p.m. All players must end play by 9:30 p.m. as the course lights are turned off promptly at 9:45 p.m.
Practice Range hours* are from 7:00 a.m. to 9:30 p.m. Range balls are available until 8:30 p.m.  All players must end their practice by 9:30 p.m.
*Please note that on Tuesdays, due to maintenance practices, the driving range will be open at 8:00am.
| Day | Date | Facility Open | Facility Close |
| --- | --- | --- | --- |
| Independence Day | Tuesday, July 4, 2023 | 6:30 p.m.  | 8:30 p.m. |
| Thanksgiving Day | Thursday, Nov. 23, 2023 | 6:30 a.m. | 5 p.m. |
| Christmas Eve | Sunday, Dec. 24, 2023 | 6:30 a.m. | 5 p.m. |
| Christmas Day | Monday, Dec. 25, 2023 | 6:30 a.m. | 5 p.m. |
| New Years Eve | Sunday, Dec. 31, 2023 | 6:30 a.m. | 5 p.m. |
White Tees - 2,706 yards
Red Tees - 2,427 yards
Mission Bay Maintenance Information
| | | | |
| --- | --- | --- | --- |
| DATE | STATUS | DESCRIPTION | IMPACT |
| August 30 - September 5 | Open | Fairways, tees to be aerated | Minimal |
| September 6 | Closed | Core aeration , topdressing of greens | Bumpy, sanded greens - Aprox. 2-3 weeks |
---
Scorecard
---
Volunteer Information
Submit your application today!
---
Cart Rules
Carts must be kept on the paths around all tee and green complexes. Adherence to all cart rules is strictly enforced. Please help us maintain the golf course by following the posted cart rules, all Marshal instructions and staying on the cart paths whenever possible.
Should you have any questions or concerns, please call the Administration Office at 858-581-7880.
---
Frost Delay
Golf Operations found the Frost Delay Procedure (PDF) to be the most equitable procedure for handling delays. We realize this may cause an inconvenience for our customers and we apologize for delays and/or cancellations.
---