Torrey Pines Golf Course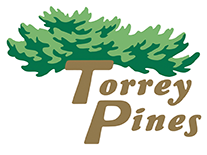 Welcome to the official Torrey Pines Golf Course Website!
---
2019 South Course Renovation Project
The South Course will undergo deferred maintenance beginning February 18, 2019, in an effort to improve playing conditions for all.
Learn more and receive updates by visiting the project information page, where we'll be adding photos, videos & more.
For real-time updates on all things Torrey Pines, follow @GolfTorrey on Twitter.
---
Live Webcam
Making Tee Times at Torrey Pines (Resident and Non-Resident)
Residents must have a valid Resident ID card and an online account in order to book tee times.
Non-Residents have access to book online up to three days in advance (non-residents will need to create an account in order to access online tee times). PLEASE NOTE: Tee times are released each day at 7 p.m. Pacific Time for the following three days.
To make reservations 8-90 days in advance, please call (858) 552-1662 between 9 a.m. - 3 p.m Pacific Time.  A non-refundable booking fee ($30 for residents and $45 for non-residents) will be charged to reserve your space and does not apply to greens fees.
Course Procedures and Policies
CHECK IN POLICY: To operate the tees in a timely manner, all players must check in for their tee times a minimum of 30 minutes prior to their reservation. Players will risk losing their reservation if they do not check in 20 minutes prior to their time.
PACE OF PLAY POLICY: For the enjoyment of all players, our pace of play policy is strictly enforced. All players are required to keep up with the group in from of them. Early morning players should play in four (4) hours or less. Mid-day or later players should play in four to four and a half hours or less. Please play ready golf.
Below is a list of things that can help you play a faster, and more enjoyable round. Please check out the PDF document linked below, and help everyone at Torrey Pines enjoy their golf experience.
Exciting News!
The City of San Diego is proud to announce Torrey Pines Golf Course as the future site of the 2021 U.S. Open Championship.
For additional information, please see:
---
Torrey Pines South Golf Course proudly hosted the 2008 U.S. Open, June 9-16, 2008. See Tournaments and Special Events for information.
The City Council Recognizes Combined Efforts for U.S. Open Success. View the video.
---