Stakeholder Committee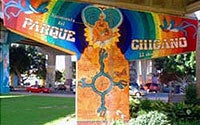 As part of this update process, the City has formed a 33-member Barrio Logan Plan Update Stakeholder Advisory Committee that provides a public forum for the community to provide input and advisory recommendations to the City decision-makers. As such, a primary objective of the update process is to engage the community of Barrio Logan in an update of the community plan and zoning program that identifies a collective identity for the community, creates a plan for future development, provides adequate buffers between incompatible land uses, reduces traffic conflicts, provides for pedestrian-oriented design principles, encourages affordable and market rate housing and provides adequate public facilities.
For questions, please contact Theresa Millette at 619-235-5206 or via e-mail at [email protected].
~~~~~~~~~~~~~~~~~~~
Como parte del proceso de actualización, la Cuidad ha formado un Comité Asesor de Accionistas de la Actualización del Plan de la Comunidad de Barrio Logan. Este comité consiste de 33 miembros y proporciona un foro publico para que la comunidad proporcione sus opiniones y recomendaciones asesores a los quien toman las decisiones en la Cuidad. Así que un objetivo primario del proceso de la actualización es captar la comunidad de Barrio Logan en una actualización del plan de la comunidad y en un programa de zonificación que identifica una identidad colectiva para la comunidad, crea un plan para el futuro desarrollo, proporciona para principios de diseño orientados hacia peatones, anima vivienda accesible y a precio de mercado y proporciona facilidades adecuadas para el publico.
¿Algunas preguntas? Por favor llamen a Theresa Millette al 619-236-6006 - [email protected].