2023 Filipino American History Month
Image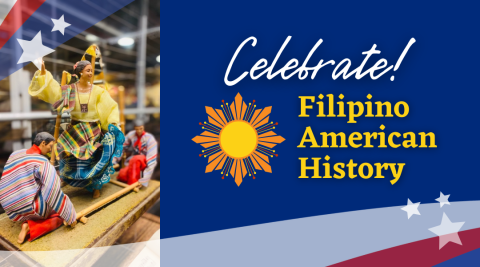 Filipino American History Month in October commemorates the first recorded presence of Filipinos in the continental United States in October 18, 1587. Filipinos arrived aboard on the Spanish galleon Nuestra Senora de Esperanza and arrived on Chumash and Obispeño lands (Morro Bay, California). The Filipino American National Historical Society introduced October as Filipino American History Month back in 1992. Today, many people in our community celebrate this month by organizing events to raise awareness about the role of Filipino Americans in U.S. history.
Filipino American history encompasses the effects of colonialism and war, labor, global migration, and activism of the diaspora in this country. At San Diego Public Library, we celebrate Filipino American history, heritage, and culture through programs, book displays, and our collections.
Featured Programs
Filipino American History Month Celebration
Monday, October 16, 2023 | 5 p.m. - 7 p.m. | Logan Heights Library
Everyone is welcome! Bring the whole family to sing Karaoke, eat Filipino food and make your own parols.
Filipino American Heritage Month Exhibit
Friday, October 1, 2023 - Tuesday, October 31, 2023 | Hours of Operation | La Jolla/Riford Library
The exhibit includes stories, photos and other memorabilia highlighting the history of Filipinos.
OnView: Landsick- Rizzhel Javier
October 11-November 13, 2023 | Central Library- 2nd Floor Display
Landsick explores the hybridity of culture, complexity of intergenerational relationships and study of binational families.
Story Times
Children's Crafts
Learn about Filipino and Filipino American culture through children's crafts at these locations:
Author Event
Filipino American History Month Author Panel: Stories of Some Filipino Americans of San Diego, California
Monday, October 2, 2023 | 6 p.m. - 7:30 p.m. | Skyline Hills Library
In honor of Filipino American History Month, the City and County of San Diego Filipino American Employees Associations present an author panel featuring the 2023 book, Stories of Some Filipino Americans of San Diego, California.
Join us for an exciting talk featuring the founder of the Asian Journal, Simeon G. Silverio, Jr., Council of Philippine American Organizations (COPAO) President Joe Mazares, retired Filipino Studies professor Felix Tuyay, and former college counselor Salvador Flor. They will talk about community building and activism, and stories of the Filipino American community.
Film Screenings
In genres ranging from a documentary to a lumpia-armed super hero movie, explore Filipino American history through film at movie showings around the City:
Resources
Videos
Introducing City of SD Poet Laureate Jason Magabo Perez!
Conversations with Poets

Scary Stories and More with SDPL
Philippine Fright Night

---
How To Make Filipino Insta Chicken Adobo
Presenter: Rachel Esguerra & Bernard Cayetano

How To Make Halo Halo
Presenter: Azalea Ebbay

Booklists